The last week in June again brought the holiday Bible club to Cullybackey RPC. This year's theme was Stand Firm with all the lessons based on Ephesians 6. A great number of primary aged kids turned out each evening on one of the hottest weeks of the summer.
After the evening's lesson on God's armour we split into groups enjoying crafts and games based on our lesson. We were thankful not only for the increased attendance on a nightly basis but also for the number of parents who attended on Friday night.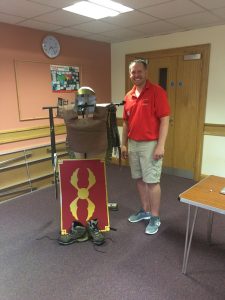 A great encouragement was the number of our congregation so willing to help in such a variety of ways. Please continue to pray for the seed sown in the community and within our congregation.
Finally, be strong in the Lord and in the strength of his might. Put on the whole armor of God, that you may be able to stand against the schemes of the devil. – Ephesians 6:10-11.
Elaine Wallace, Cullybackey RP