Trinity Reformed Presbyterian Church, Mossley can trace its roots back to Trinity Street RPC in North Belfast which held its first worship service on 21stJanuary 1896. There were approximately 85 members. During "The Troubles", Trinity Street was in an area of conflict and on 6thApril 1975 the congregation moved to rented accommodation in The Barron Hall in Glengormley. At this time membership was approximately 20. Over the next seven years, under the leadership of Rev Prof Edward Donnelly, membership grew to over 70 (including covenant children) and in 1982 the current premises in Mossley, Newtownabbey were purchased. The building had been a school and was partially demolished before the church was built. The congregation undertook to do much of the work themselves ("Health and Safety" were yet to be the dreaded words they are today) which greatly reduced the cost of the building project, and also developed a sense of camaraderie which many still remember fondly. Worship commenced in the new building on 17thAugust 1983.
Since then membership has steadily grown with both Rev Donnelly and, more recently, Rev Warren Peel, feeding the congregation richly from God's word. Currently, average Sabbath morning and evening attendances are 158 and 117 respectively. During the time in Trinity Street a Sabbath afternoon Sabbath-school class was provided for the children of the neighbourhood. In the 1982 church reports it is recorded that the Sabbath afternoon class had come to an end but "our prayer is that God;s Word will not return to Him void, but that even yet He will use that Word in bringing the children to saving faith in Christ." Over 20 years later, a lady came to Trinity who had attended the class as a child. She had indeed come to saving faith and is now a member of Trinity.
Apart from the Sabbath-day services there is much going on in and around the church buildings; before the morning service Sabbath-school and an Adult class are held. There are 64 children and 10 teachers in Sabbath-school; before the evening service there are two prayer meetings, one for adults and one for intermediate and senior CY. Junior CY, (8-11 year olds) also meets at this time; after the evening service we have a time of psalm-singing several times a year, either in the church building or in members' homes; on Monday evenings there is a language class for foreign nationals and the Women's Fellowship meets monthly.
on Tuesday evening one can play badminton in the church hall or attend one of the home-fellowship groups; Wednesday morning hears the halls resound to the sounds of a very healthy Tots group and on Wednesday evening there are three more home fellowship groups; one Wednesday evening a month the home fellowship groups all come together in church for a prayer meeting with a missionary focus; on Thursday morning there is another home fellowship group and a Seniors' lunch is provided bi-monthly; Friday evening brings many young people to church, with Campaigners for children aged 4-11, Intermediate CY for 11-14 year olds and Senior CY for  those who are 15+. On the first Sabbath morning of every month, some members lead worship services in two local nursing homes. In addition to all of this, the Men at Trinity meet monthly for social events and have a bi-monthly prayer breakfast.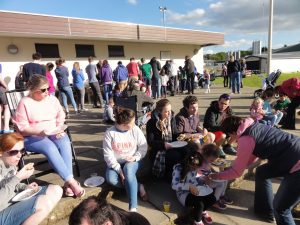 The congregation also runs an annual Holiday Bible club, which has an attendance of approximately 100 children, many of whom come from the local community.
There is an annual church weekend, which provides much opportunity for learning, fellowship and service. And to conclude, the congregation organises several social events which include family nights, a summer barbecue and summer walks.
God has been very gracious to Trinity over the years and we are thankful to Him for all He has done.
Warren Peel, Minister @ Trinity RP