Clare congregation is situated in rural Co. Armagh, N. Ireland.  It was formerly a Secession Church and joined the R. P. denomination in 1919.  It  remains a small group (normal attendance 30) but has experienced encouragements in recent times.
The property consists of a meeting-house extensively renovated and reopened in April 2001, and a Hall rebuilt and extended, with a reopening in March 2014.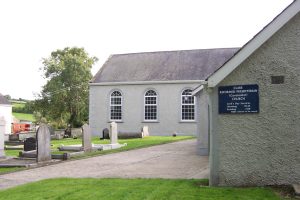 Two new elders were ordained in October 2015.  For the previous 10 years the congregation had been dependent on non-resident elders and it had been all of 54 years since the previous ordination of elders in the congregation.
Traditional activities such as the summer Bible Club and the annual Treasure Hunt have successfully continued.   New encouraging ventures have included the monthly TLC (The Lunchtime Club) and the Women's Fellowship.
Future challenges point to the need for more people.  It is a happy development that there are now 7 children attached to the congregation, which means that there is a Sabbath School before the service.  Some effort has been made to reach out to the community but more needs to be done.   Accompanying all that is happening within the congregation, and in outreach, there needs to be a greater commitment to united prayer.  A greater interest and involvement in the wider Church, as well as in the cause of Christ throughout our fallen world, is also desirable.  The encouragements we have already seen give us hope and confidence about God's blessing on the work and witness of our congregation in the future.
Alison Hamilton