As its name implies, Covenant Fellowship Reformed Presbyterian Church (Pittsburgh, PA) treasures fellowship of the saints. We seek to live and walk together, encouraging one another in our relationship with Jesus Christ. One way that Covenant Fellowship encourages its members in fellowship is a biennial congregational retreat. Every other spring, Covenant Fellowship enjoys a shared weekend at a local retreat center for fun, fellowship, study, and worship.
This year's retreat was the first since the COVID-19 pandemic started in 2020, and it was clear that the members of Covenant Fellowship were excited to return to tradition. The theme for the weekend centered around evangelism, featuring lessons from member and RPTS professor Ed Blackwood. The weekend started on Friday evening with an introductory lesson where Pastor Blackwood compressed material from his Evangelism class at the seminary into just 90 minutes! Ed gave testimonials of his own successes and failures, provided concrete action plans, and gave time for the attendees to discuss their own ideas and questions. It spurred further conversation throughout the weekend, including discussion about strengths and weaknesses of our own congregation concerning evangelistic pursuits, and how we can encourage growth in that area. After discussion, the group dispersed for conversation, board games, and fellowship over ice cream.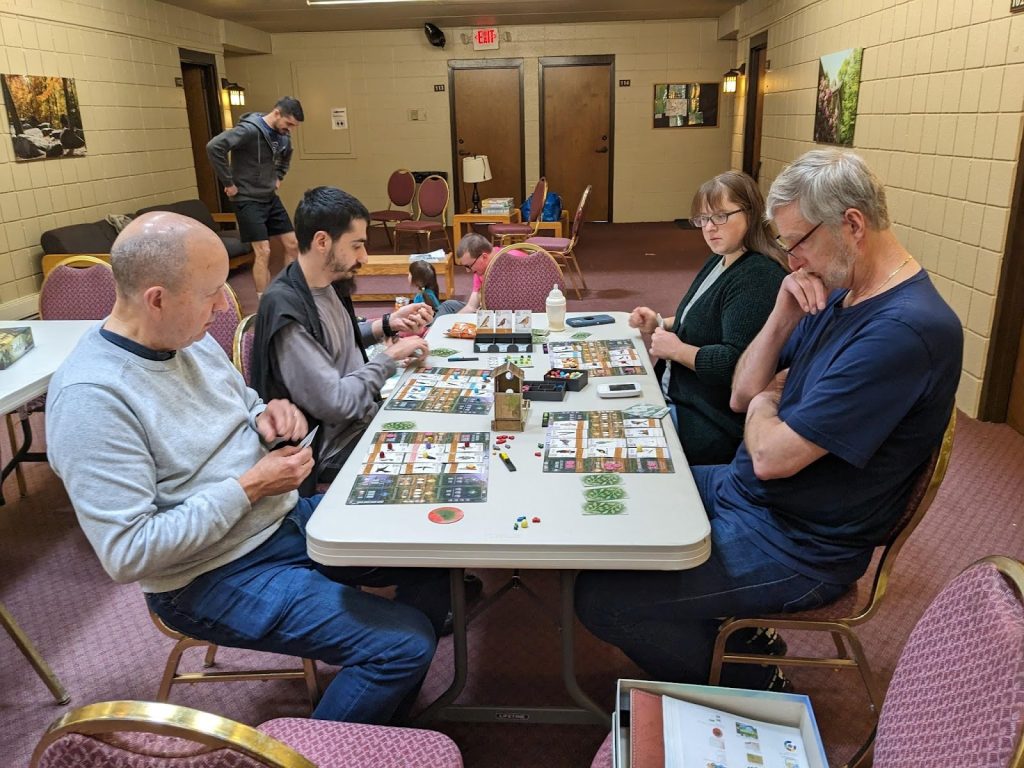 In between rain clouds on Saturday, attendees enjoyed a guided wilderness hike, playing games in the gymnasium or outdoors, and relaxation in the lodge. Meals throughout the weekend were enjoyed all together in the dining hall. Members were encouraged to sit with and get to know someone new to them; it forged and strengthened many connections among us. Saturday evening's events included a Psalm sing followed by shared testimony from two members of the congregation. Many in the audience were moved to tears upon hearing the powerful work of the Holy Spirit in the lives of dear friends.
Covenant Fellowship held their Sabbath-day worship at the retreat center on Sunday with a sermon from Pastor Blackwood with a call to action on evangelism. Some members who were unable to attend the whole retreat came on Sunday for the worship service. After packing up, everyone made the trip home to savor the day of rest.
The 2023 Congregational Retreat was a wonderful opportunity to intentionally cultivate strong relationships among the members of Covenant Fellowship. We are already looking forward to the next retreat in 2025, Lord willing!
Thanks to Sean and Anne McPherson for putting together this article. Sean and Anne are blessed to be members of Covenant Fellowship RPCNA and live in Wilkinsburg, PA with their two sons and three-legged dog! They have previously been members of Grace RPC (State College, PA), Covenant RPC (Meadville, PA), and Atlanta RPC.