Over Friday the 20th and Saturday the 21st of January, 2023, the Youth of the three congregations of the Reformed Presbyterian Church of Australia held a youth service project.
After a successful first try back in 2019, the youth committee decided to organise another dinner in which the youth had the opportunity to serve the elders and their wives a delicious meal of the youth's own making.
The youth arrived on Friday night and were warmly welcomed by the leaders; Maria Blackwood, Roby and Jacqueline Vicary, and Lily Blakston, as well as a plate of pizza. We spent the evening playing games like 'link tag' and 'duck duck goose' at a nearby park. The night ended with a relaxing time of singing psalms together.
On Saturday morning, we woke up to have pancakes and good conversations around the table. Throughout the day we played various games and enjoyed fellowship with each other. Maria Blackwood, one of the leaders, led a discussion about the importance of serving, specifically honing in on the ways in which Jesus served while He was here on earth. The youth were able to consider and discuss ways in which we, even though we are youths, can use our gifts and abilities to serve the church.
Don't let anyone look down on you because you are young, but set an example for the believers

1 Timothy 4:12
Another thing we did (as pictured above) was write letters to the elders and their wives, thanking them for their servitude, commitment, and ongoing work in the church.
As the arrival of our guests approached, we began making their dinner. The kitchen was full of cutting, spreading, frying, and taste-testing youths. When the guests arrived, the youth welcomed them with smiles. Some youth entertained with live music. After the elders and their wives were seated, the youth served each one their chosen meal. The menu consisted of various dinner options including sushi, curry and rice, and seafood pad thai.

Following dinner, a selection of desserts was provided and gobbled down. Then, as the couples continued their conversations, the youth set their hands towards the long and noble task of washing and drying dishes. Once everything was sparkling and clean and the guests had been farewelled, the night came to a close.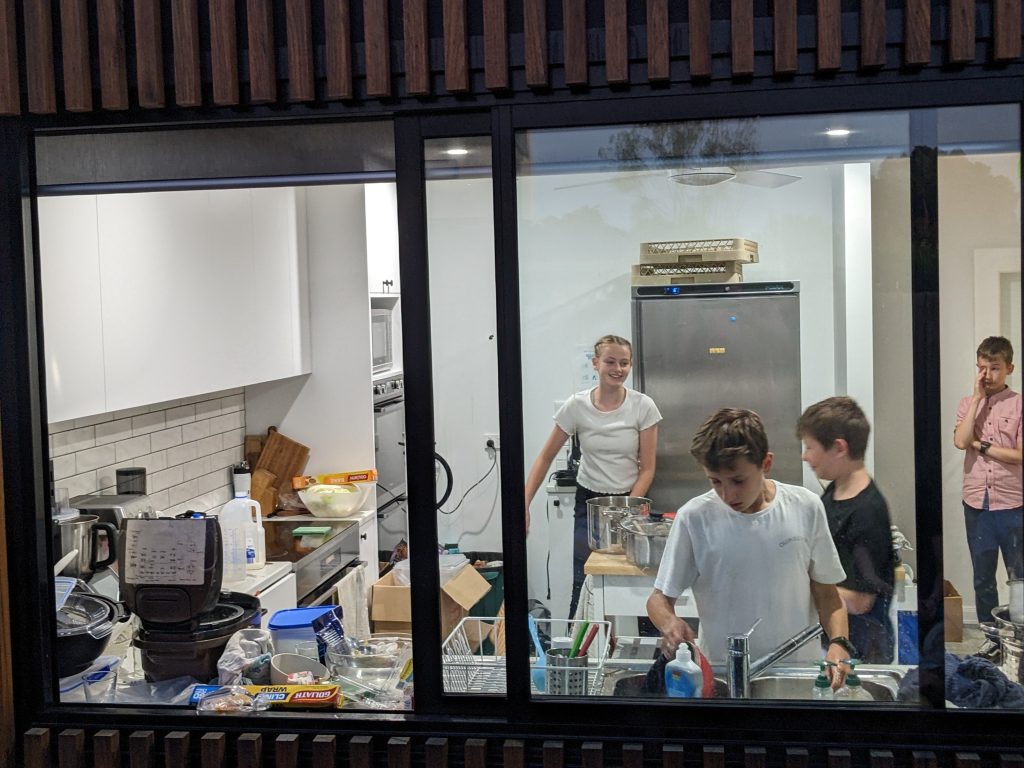 On behalf of the youth, I can confidently say that it was an honour and a blessing to be able to serve the elders and their wives.

Thanks to Rose Blakston for putting together this article. Rose is a member of the Frankston Reformed Presbyterian Church of Australia. She is 6 days shy of being 17 and is studying year 12 this year. She also teaches, assists, directs and takes part in various performing arts classes nearby. In her spare time, you'll find her creating in any way she can, composing, writing, drawing, building, or just jamming out.