Johnathan Kruis was recently ordained as the Pastor of Fresno Reformed Presbyterian Church. This joyous occasion marked the beginning of a new chapter in the history of the church and the Kruis family.
The Ordination and Installation was conducted by a commission of the Pacific Coast Presbytery consisting of Rev. Colin Samul (Reno, NV), Rev. Tim McCracken (Fresno, CA), and Elder David Ashleigh (Los Angeles, CA). This was a fitting group as Colin Samul had been the provisional moderator for Fresno, Tim McCracken had previously pastored the congregation for 29 years, and David Ashleigh had been Johnathan's ruling elder at Los Angeles Reformed Presbyterian.
The occasion was made even more special by the presence of family and friends from near and far who have supported the Kruises and the church.
Rev. Ed Blackwood, director of admissions at RPTS preached the sermon from 1 Timothy 5:17-25. Johnathan's father, Rev. Phil Kruis (a PCA pastor in Tucson, AZ) gave the charge to the pastor. Elder Howard Huizing gave the charge to the congregation.
Elder Paul Hemphill gave a well written speech of steps that led to this point in the lives of Johnathan and Fresno RPC. This is an edited version of that narration:
Fresno Reformed Presbyterian Church was organized on October 14, 1920, more than 102 years ago. From day one, this church has been focused on evangelism, bringing the gospel to bear in people's lives. Whether that be with a child born and baptized into the church or with an individual that came into the church after being invited by a friendly face. This is the mission of the church, to make disciples for the glory of God. As we consider the history of Fresno RP Church – its 102 years, its multiple meeting sites over the years, the 20 ministers (soon to be 21) that have served in this pulpit, may we remember the mission of the church.
And now a brief history of the man we will soon ordain and install as the 21st pastor of Fresno RP Church.
Johnathan Kruis was born in Jackson, Mississippi in 1992 while his parents resided there as his father attended seminary at the Reformed Theological Seminary. At age 3, Johnathan moved with his family to Arizona, and lived as a "PK" (or pastor's kid) until he graduated high school and headed to Providence Christian College in 2011. Upon graduation, Johnathan had enjoyed his time so much, that he remained at Providence, serving first as a resident director and eventually as the director of student activities. During his time at Providence, Johnathan met Evelyn (this may explain why he loved Providence so much), and they were married in 2014. Palisade was born in 2017 and Kingsley & Winslow were born in 2019. The family now eagerly awaits the arrival of baby brother or sister later in 2023.
Johnathan and Evelyn first began attending Los Angeles Reformed Presbyterian Church in 2015. Soon thereafter, Johnathan and Evelyn jumped into the life and service of the church, serving in a variety of ways, including helping with the annual winter youth Presbytery conference. As a side note, I am thankful for the closeness that our congregation here in Fresno and the LA RP church have always had for many, many years. Given that deep relationship, it only seems fitting that Johnathan's first connection to the RPCNA would begin with LARPC.
Johnathan first felt called to the ministry in the spring of 2018 – first feeling a sense of calling to minister to college-age youth. Later in 2018, Johnathan became a student under care of our Presbytery, and he began taking on-line classes at the Reformed Presbyterian Theological Seminary ("RPTS"). In 2020, Johnathan and his family packed their bags and headed East to attend RPTS full-time in Pittsburgh, Pennsylvania. As Johnathan continued his studies and preparation for the ministry, it became apparent to Johnathan that he was being called to full-time pastoral ministry. Throughout his time in seminary, Johnathan's love and care for our presbytery, the Pacific Coast Presbytery, grew more and more, and Johnathan and Evelyn are well known in RP circles back East as passionate advocates for filling the vacant pulpits of our west coast churches.
Ever since their involvement with the RPCNA in Los Angeles, the Kruis family has had interactions with Fresno RP folks, but these interactions expanded to the entire congregation when Johnathan flew out from seminary to fill our vacant pulpit in July 2021. Johnathan returned to our pulpit in October 2021 and December 2021 as an official pastoral candidate. The Fresno RP Church held a congregational meeting on February 19, 2022, at which time it elected Johnathan Kruis as pastor. Of course, given that Johnathan had not yet graduated from seminary or completed his Presbytery exams, Fresno's pastoral call went to the Pacific Coast Presbytery until such time as it could be delivered to Johnathan. Here in Fresno, we knew we needed to get our hooks into Johnathan early.
Johnathan graduated from Seminary, moved with his family to Fresno, completed his Presbytery exams, received and accepted the pastoral call from Fresno RPC, passed his final round of Presbytery ordination exams, and we now find ourselves here tonight, gathered to witness the ordination and installation of Johnathan Kruis as pastor of the Fresno Reformed Presbyterian Church.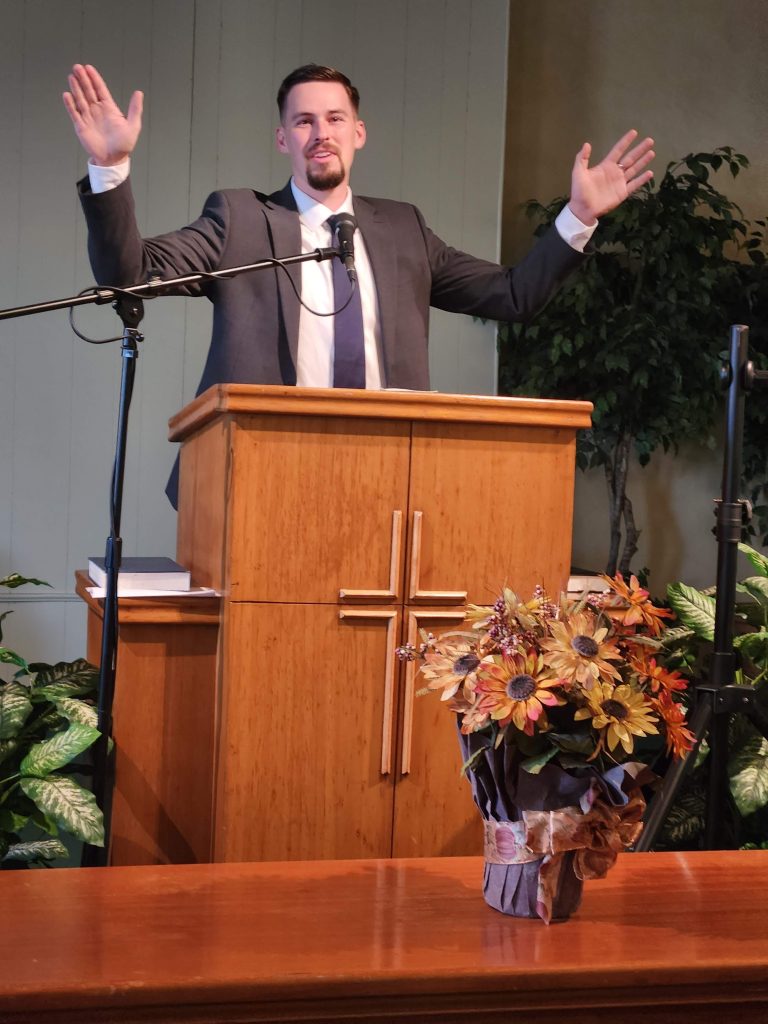 The last four years have not been easy years for the Fresno RP Church. The pandemic has taken its toll on the broader church, and Fresno RPC is not exempt from this. Our pulpit has been vacant for almost three years, and that vacant pulpit was the result of significant conflict in the life of this church leading up to the end of 2019. Through all of that, God has shown himself faithful. I have personally been deeply encouraged by many of you these past few years, and I am genuinely excited for what God will do with Fresno RPC in the years ahead. May we all continue to steward the mission of Fresno RPC, as we seek to make disciples for the glory of God.
Thanks to Jonathan Kruise for putting together this article for us