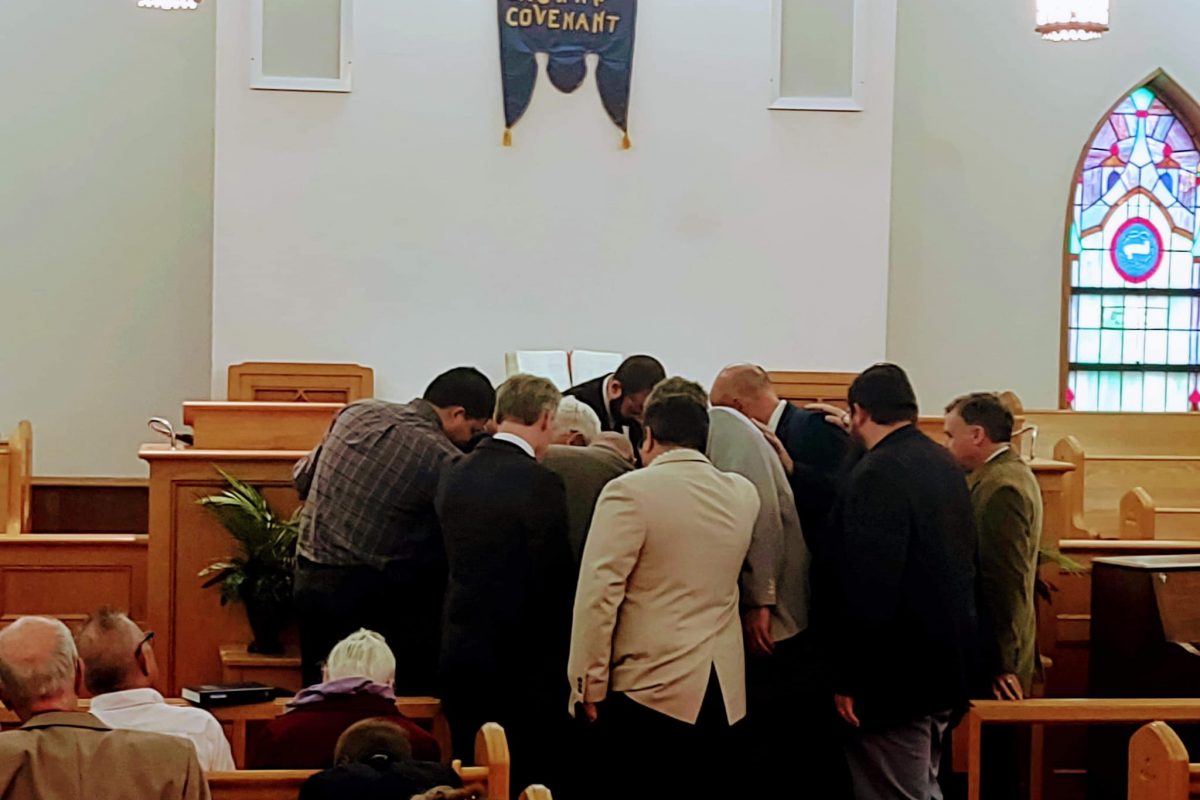 It was ten years ago that a group of interested persons first expressed their desire to form a fellowship of Reformed Presbyterians in the Shenandoah Valley of Virginia. Chris Myers (now Pastor of the Phoenix, Arizona RPC) reached out to Pastor Steve Bradley (then at Trinity RPC, Beltsville, Maryland) in October 2012 to make known the interest of this group in establishing a congregation associated with the RPCNA in Harrisonburg, a college town – home of James Madison University.
Grace & Truth was received by the Presbytery of the Alleghenies as a mission plant in June 2013, and a Temporary Governing Body (TGB) drawn from the session of Trinity RPC (now located in Burtonsville, Maryland) was created (eventually the TGB would be re-organized to include Rev. Tom Reid and Rev. Paul Martin, as well as ruling elders David Merkel and Tony Gazo). The first public worship service of Grace & Truth was held in August 2013, and the first members were officially added to the membership rolls the following month. 
After years of pulpit supply by Paul Martin as well as by ministers from other denominations, Rev Ryan Bever was finally called, ordained and installed as the stated supply for Grace & Truth in August 2017. The church plant continued to grow while it met at a Christian school in Harrisonburg. Despite the church meeting outside during the early part of the 2020-2021 Covid pandemic, growth in the membership continued and eventually a new location to meet was found. Grace & Truth began to meet at a United Methodist church building in Harrisonburg in November 2021.
Following the election of officers on August 27, 2022, the mission plant of Grace & Truth was  formally organized as a congregation of the RPCNA in Harrisonburg, Virginia on October 1, 2022. Pastor Ryan Bever was installed as teaching elder, along with Paul Martin (ruling elder). Jonathan Bucher (ruling elder) was ordained and installed to constitute the session.
At the organization service, the sermon was delivered by Dr. Barry York, President of the Reformed Presbyterian Theological Seminary. A charge to the elders was given by Pastor Steve Bradley (Providence, RPC, Pittsburgh, Pennsylvania) and a charge to the congregation was given by Pastor Jeff Stivason (Grace RPC, Gibsonia, Pennsylvania). A time of fellowship and refreshment followed the special service with many visitors attending. You can watch the organization service below.
Prayers are requested for the work of the newly-installed session and for provision of a permanent church building. The Lord has been most gracious to this little flock and it is our desire to see the ministry of God's word continue to be proclaimed and God glorified here in the Shenandoah Valley of Virginia.
Thanks to Andrew Myers for compiling this report. Andrew Myers is married with six children, and lives in McGaheysville, Virginia and is a member of Grace and Truth. Previously, he has served as a deacon at Trinity RPC (Beltsville, MD). He has worked as the website administrator for Log College Press, a publishing company that highlights early American Presbyterianism, since 2017.