RPCNA | Pacific Coast Presbytery | Squamish (British Columbia, Canada) Established: 2017
Pastor: Patrick McNeely
Temporary Governing Body: Joel Martin (Seattle RPC, Seattle, Washington) and Rev. Ryan Hemphill (Treasure Valley RPC, Boise, Idaho)
Members: 14 Communicant, 15 Baptized
Squamish
On the road between Vancouver, a multicultural metropolis, and Whistler, where you can ski nearly year-round, is the Canadian town of Squamish. A popular destination for anyone who loves outdoor recreation, Squamish is nestled among mountains and also benefits from a temperate sea climate. It is home to three main rivers that feed the Alaskan bald eagle population for the winter months, two universities, and my church family at Coram Deo Reformed Presbyterian Mission Church.
The Back Story
Squamish, and indeed the west coast of North America, is increasingly dismissive of the gospel of Jesus Christ. Our town is among the most "unchurched" cities in the nation (see photo below for statistics). However, there are a number of congregational Baptist and charismatic denominations represented in Squamish from which some of the members of Coram Deo have come.
Our story starts, in the Lord's providence, with the Robertson family. Scott and Michelle, and their three children were part of the Russell RPC in Ontario when, several years back, Scott took a job in Vancouver. This necessitated a big move (over 4,000 km!) for the family, who settled in Squamish, BC. The Robertsons had a desire to remain under confessionally reformed leadership and so were thankful to establish a connection with Patrick McNeely on a theological backpacking retreat in Colorado with Scott's eldest son, Noah.
Patrick, originally from Albuquerque, New Mexico, served previously as a US Airforce Pararescue specialist. Yet, in 2012, he commenced graduate studies at Reformed Presbyterian Theological Seminary in Pittsburgh, PA. He and Scott share a love for outdoor adventure, and they get out together whenever one can convince the other of trading bike tires for running shoes.
Planted
By 2017, Patrick was finishing out his studies with RPTS in the Robertson family home while investigating the potential of planting a church in Squamish. Patrick and the Robertsons started meeting in the public library downtown with a few families on the Lord's Day. Additionally, the small core group began driving to Vancouver to join in public worship and fellowship with a congregation from the Associated Presbyterian Church (APC).
Word traveled quickly. The Lord started reforming and kindling interest in others so that by the time Patrick was ordained in April 2018, there was the beginnings of a small church plant ready to receive the means of grace week in and week out.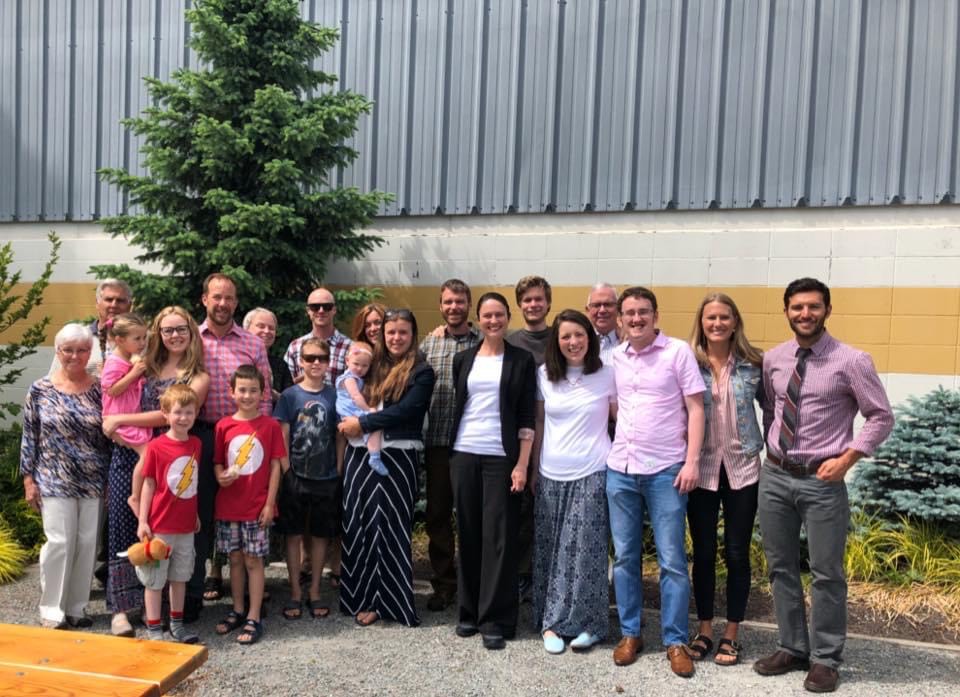 Squamish Today
After nearly four years of slow but steady growth, our hope remains in Christ Jesus, Who we trust will see us through these hard pandemic days. In October 2018, Patrick married Jaclyn. They are parents to two young children. While we lack ruling elders of our own, we are blessed to be under the oversight of a temporary governing body (TGB) of elders within the Pacific Coast Presbytery of the RPCNA.
The congregation is young, not just in establishment, but also in that we have more baptized members than communicant members! However, our average age of about 22 years old reflects that we are blessed with those from all stages of life, which we pray will continue to be a blessing to us here. Our congregation currently comprises six families, including 14 communicant members, 15 baptized members, and three adherents.
We have pencil pushers who push the time records on the local running and mountain bike trails, hard workers for big and small families, devoted mothers, fathers, grandparents, young nesting families praying for children, and young men and women who are discovering how the Lord will use the gifts He has given them.
One of the families has moved on to serve the Chinese speaking community of believers in West Vancouver, and through this work our eyes have been blessed to see another Chinese work being developed further south in the Greater Vancouver Area (GVA), both of which our pastor serves on as a member of the respective TGB's.
Congregational Life
Currently, though the pandemic has hindered us, mostly due to the fact that we do not have our own building as a resource, we gather for worship on the Lord's Day with a Sabbath school time after the service.
We have mid-week congregational studies that typically run through the spring and fall. Some of the men gather on Thursdays for early morning wisdom as they consider the book of Proverbs at a local coffee shop led by Pastor Patrick and others meet for a men's night to share whatever current event or podcast they've considered during the week.
The women have recently started reading through a book together for accountability, interaction, and encouragement. Whenever possible, we all like to get outside together to enjoy the wonders the Lord has displayed in this part of creation during walks and shared meals.
"To live coram Deo is to live one's entire life in the presence of God, under the authority of God, to the glory of God."
— R.C. Sproul
Pray for Us
● Please pray that the Lord would provide ruling elders and deacons in the three RP mission churches in the Greater Vancouver Area.
● Pray for a faithful witness to our community. Pray for the encouragement and edification of Christ's Church across the denominational lines.
● Pray for the spirit of the age to be overcome by the Spirit of God dwelling in those who call upon the name of Christ Jesus in this region.
Nathan Bayne, 34, was saved by the grace of God in Christ and is married to a young, beautiful woman named Josiane. In addition to learning French, so as to better communicate with his wife's family in Quebec, he works as a master-cabinetmaker at Leon Lebeniste Ltd. based out of Squamish, BC, Canada. Nathan and Josiane love to be outside in the mountains rock climbing, ski-touring, and building relationships with others so that they might be a blessing to all those around them.