RPCI | Mission Work | Nantes (Pays de la Loire, France)
Organized: December 12, 1989
Pastor: Andrew Lytle
Ruling Elder: Michael Heft
Average attendance at Lord's Day worship: 25-30
Nestled in Orvault, a suburb located on the northwest corner of Nantes, France, is a small mission work of the Reformed Presbyterian Church of Ireland (RPCI). Nantes is a large metropolis of almost 600,000 souls. It is the administrative capital of the department of Loire Atlantique, one of the most important centers of population in France. It is also home to the Église Réformée Evangélique d'Orvault (in English, the Evangelical Reformed Church of Orvault).
History of RP Work in France
1986: The church in Ireland first sent a team of missionaries to France.
1988: Following a language study in Massy, in the central region of France, the team moved to Nantes. This initial team comprised Rev. Malcolm Ball and his wife Muriel and their children, Rev. Blair McFarland and his wife Claire and their children, and Margaret McMullan. 
2000: Margaret McMullan retired from the work and returned home to Northern Ireland.
2006: Rev. McFarland returned to Ireland and took up the pastoral charge of the Bready congregation.
2011: Malcolm and Muriel Ball were joined in Nantes by Rev Andrew Lytle and his wife Heather.
2019: The Balls retired from full-time missionary work and returned to Northern Ireland after 33 years of service in France. 
2021: the congregation formally elected and ordained its first elder outside of the missionary personnel, Michael Heft.  
Need for More Space
For many years, it has been generally acknowledged that the existing meeting place in a rented building in Orvault was too small for the needs of the congregation. After much searching, a new property was acquired by the Irish church. This property includes a larger home for the Lytles with the space necessary for hospitality, Bible studies, prayer meetings, and Sabbath School.
However, the main reason for the purchase of this property was to use the garden space beside the house to construct a new church building. Planning permission has been sought and granted by the local planning authorities and it is hoped to begin work on the new building in the coming months.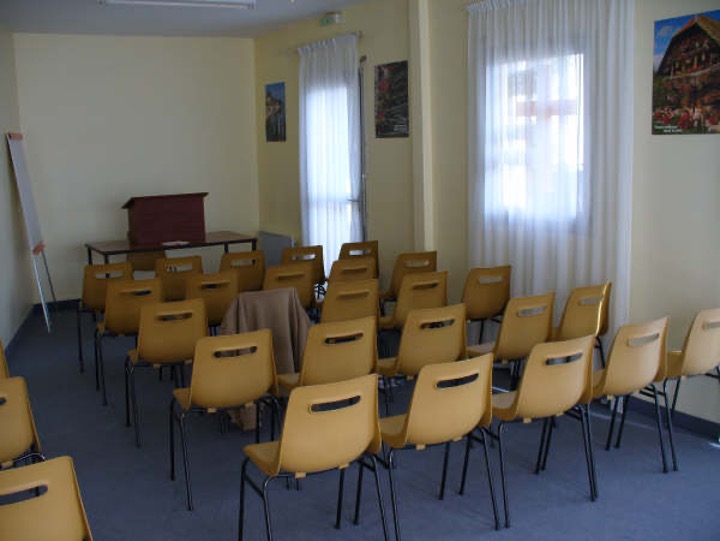 What's On?
Public worship takes place every Lord's Day morning at 10:30. This is preceded by a time of prayer at 10:00. The service is conducted in French, but an English translation of the sermon text is available for those needing it. Since early in the Covid-19 pandemic, the service has also been broadcast live on on the church's Facebook page, with the sermon later being posted on its YouTube channel.
On Monday evenings, in the Lytle's home, there is a meeting for Bible study and prayer in English which caters for the large number of people living, working or studying in the Nantes area who do not speak sufficient French to benefit properly from services or Bible studies conducted in French.
Wednesday evenings the regular midweek Bible study in French takes place along with an additional prayer meeting on the first Friday of every month.
On the third Lord's Day of each month, the members of the fellowship meet for lunch in the Lytle's home, and the meal is followed by Sabbath School for both children and adults. These are rich times of learning and fellowship and have been a great blessing since these meetings began in 2019.
The Covid pandemic has brought a temporary pause to the Thursday evening English Café held at a café near the University which brings together students from many different nationalities and backgrounds. It is hoped that this, or a similar activity will begin again as soon as possible.
Occasional events, such as Irish evenings held around St. Patrick's Day and special evangelistic meetings, are organised from time to time. This has been difficult to maintain given the restrictions on indoor events. But in time, it is hoped to recommence these meetings and also develop other means of reaching out into the community.
The church website is an invaluable means of outreach and communication and is attracting an ever-growing number of visitors especially during the Covid-19 pandemic.
How Can You Help? 
Prayer is a vital element in the work, and the prayer support of hundreds of Christian friends throughout the world is greatly appreciated. If you would like to receive monthly prayer updates, please contact Andrew and ask to be added to the email list.
Many congregations pray regularly for the work in France but it would also be possible for individuals to set up prayer groups specifically for France with people who share a similar burden for the work.
 VISIT & WORSHIP WITH THE FELLOWSHIP
You can get to Nantes easily by plane or train. If the Lytles or other members of the congregation aren't able to offer you accommodation, they would be happy to suggest appropriate accommodation possibilities in the area!
TAKE A "GAP YEAR" OR CAREER BREAK OR COME STUDY IN NANTES
There are many international students who go to Nantes to study, many of whom speak little or no French. Others go as part of their university language studies. Whatever the reason, the church is always delighted to welcome those who go with a desire to serve and be involved in the life of the fellowship! There are opportunities to be involved with most aspects of the work but especially with the work among students.
Opportunities are not just limited to students. If someone is willing to be flexible in terms of work or retirement and willing to make an effort to learn enough of the language to get by, then there is a place for them in Nantes. If you would like to investigate the possibility of moving to Nantes to be involved with the fellowship there, please contact Andrew Lytle.
As with all missionary situations, the work in Nantes is maintained thanks to the generous and sacrificial giving of God's people throughout the world. If you or your congregation want to make a financial contribution directly to the work in Nantes, contact the Northern Ireland Mission committee treasurer or Pastor Lytle.
Michael Heft grew up in the United States and was a member of the Los Angeles congregation in California before moving to France a few years ago with his wife Priscilla. Mike has served as Ruling Elder in the Église Réformée Evangélique d'Orvault since 2021.
If you want to see your congregation featured here, get in touch through our contact page. We'd love to hear from you!