Russell Township is located 35 minutes South-East of Ottawa, the capital city of Canada and has a population of about 15,000. The Russell RPC began as a church plant of the Ottawa RPC, with eight local families who had been commuting just under an hour to worship at the Ottawa RPC. The first Russell RPC worship service was held on October 19th, 1997 with newly-called Pastor Matt Kingswood.
We became independent of the Ottawa RPC on February 13th, 2006, when the congregation was formally organized with 48 communicant members.
For 12 years, we continued meet in the Mother Theresa Catholic School Annex in the heart of Russell.
In 2009, the Mother Theresa School Annex was demolished, and so we were grateful to continue worship services across the street at the Ecole St. Joseph Catholic elementary school, where we started services on February 8th, 2009 and continued all the way until COVID-19 closures forced us out in March 2020.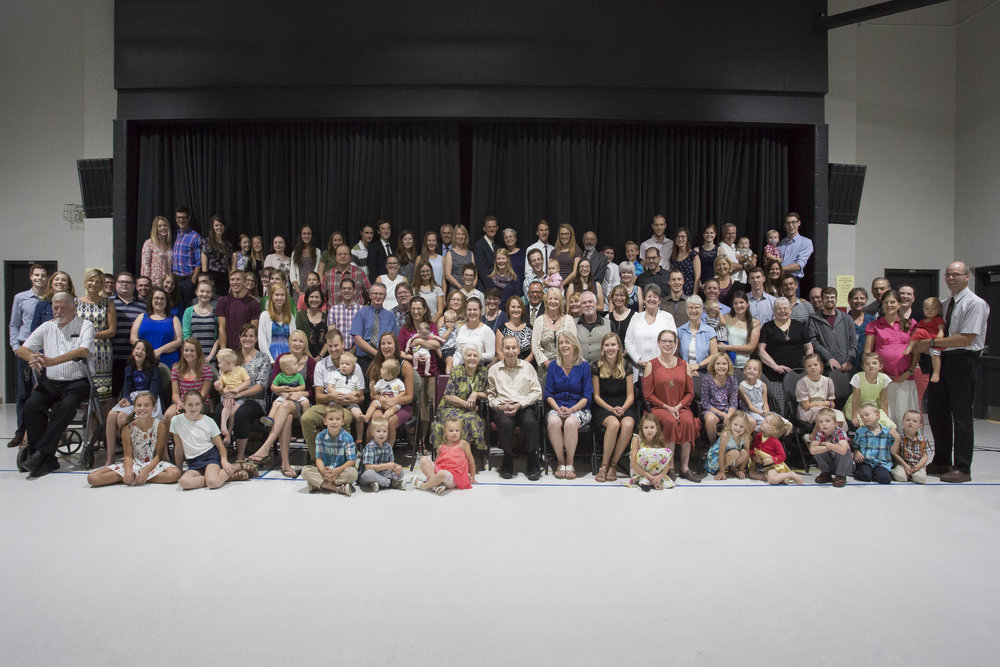 The congregation currently has 80 communicant members; 41 covenant children; and 21 adherents, with typically 135 worshipping on a Lord's Day. In addition to Teaching Elder, Matt, we have four ruling elders and three deacons.
Building Committee History
The desire for a permanent place of worship was the impetus to the formation of a Building Committee in 2005. There were many pursuits of land parcels; however, there were also disappointments–zoning and by-law challenges that forced us to purchase commercial land rather than lower-priced farmland; deals that fell through; and properties that ended up unsuitable.
Finally, in August 2018, we finalized the purchase of a 1.6-acre piece of land on the North Russell Road, where we hoped to design and build a new church building. In February 2020, our Session issued a Building Mandate which launched a concerted effort to finalize building needs, commence work with an architect, and conduct a burst of fundraising. We were finally on track to build!
Then came COVID-19…. we were shut out of our school building rental, and in the ensuing months– the ousting became permanent. In the meantime, we worshipped over Zoom and Youtube. Through the summer and autumn, we resorted to "field worship" at a congregant's property.
Purchase of Foodland
In God's providence, while looking for indoor rental space (Canadian winter was coming!) we inquired about a vacant former Foodland grocery store in the heart of Russell. We came to find the building was not for rent…but the owners were quietly making plans to market it for sale! We acted quickly. Our deacons were engaged. The congregation was 100% united. The offer was wise and reasonable, but great value. In December 2020 we took possession!
It has been a remarkably kind providence from the Lord being able to purchase (and expand upon) an existing building that will fully meet all our original needs with a total project savings of at least $600,000! Furthermore, in God's kindness, we have a far more immediate place to worship temporarily, as the new build would have been several years away.
Funds and Plans
Fundraising for the building began many years ago, in parallel with the building committee. We were blessed with an early "boost" gift from an Irish congregation of $35,000 in 2006. As our congregation grew, giving was faithful and over the past 15 years our building fund/equity has now reached about $1.2 million. This year's divine "course correction" from building on the North Russell Road to converting the Foodland Building happened just as our congregation was conducting a robust internal fundraising effort.
In addition to the over $1 million already saved, in 2020 alone our congregation raised an additional $415,000 from within. It has been a heart-warming and encouraging time, as many families have "dug deep" and sacrificed to give generously beyond their normal giving. Absolutely everyone has been engaged – from teens, to young adults with first jobs, and on upward! The Lord has provided, and fruit of spiritually-minded giving abounds.
Following our possession of the property in December 2020, we hope to proceed to gain municipal permission for the building to function as a meeting hall. Phase 1 will convert the existing 6600 sq ft of building to align with our end-state design (kitchen, classrooms, fellowship hall). Additionally, as soon as funds are available, we hope to construct a 4000 square ft sanctuary, as an addendum to the existing building (Phase 2).
We are actively developing detailed architectural and engineering plans in order to fully cost the project. At this point, we estimate we will need at least $1 million more in funds to fully complete Phase 1 and Phase 2. We have some capacity to borrow, but not nearly enough. Therefore, we plan to commence fundraising outside our own congregation in months to come, once we have more accurate estimates of the final need.
For Prayer
Praise God for His goodness to us! Faithful saving and giving over the years. Remarkable providences in 2020 with the Foodland purchase!
Continued Unity. Pray for continued unity and harmony as a congregation. We have been blessed with such unity and unanimity in all our decisions to date. We pray the Lord's continued peace and blessing upon us.
Help with Final Plans. May we have wisdom with the many details associated with design, building and management. Pray that final fundraising efforts would be successful so the final loan – if any – would be manageable.
Gospel witness. Foremost in our minds, in addition to a stable place to worship, is the desire for a visible witness to the name and church of the Lord Jesus Christ in our community. Pray that unbelievers will be awakened, that there will be revival in our community, and that our congregation would be a vibrant, outward-looking, and gospel-oriented people!
Greg Alexander is a ruling elder in the Russell RPC. He is eagerly anticipating the next RP International Conference!
NOTES: All monetary references above are in Canadian dollars. If you if you have questions, advice, wish to contribute, or be part of our mailing list for future updates, please contact deacons Aaron Pol (aaron.n.pol@gmail.com) or Brian Vuyk (brian@brianvuyk.com).