I first met Graeme back in 2003 when my wife Megan and I were on a short-term mission trip from the RPCNA to the RPCA in Melbourne, Australia. Megan and I were juggling a soccer ball out front of the RTC seminary in Geelong (the Reformed Theological College) with a few other students we had just met. I remember there was an errant kick and the ball rolled over to this guy walking past who picked it up and feigned a jump shot while saying, "I prefer a game with a backboard and a net". And that was the first time I met Graeme Hart. But it wasn't the last time that our paths crossed.
At that time Graeme was studying to be a minister in the RPCA. Later on he would take up an internship in the same Reformed Presbyterian church where Megan and I were worshipping in Lafayette, Indiana. This was 2005 and Megan and I had already begun to pursue a move to Australia to serve the church we had grown to love in our short trip two years before.
In 2006 Megan and I and our 9 month old daughter made the move to Australia and where did we stay? In the home of Graeme and Allison Hart. They graciously made their home available to us to house sit and become acclimated to our new surroundings for a few months while Graeme finished up his internship at Lafayette.
Upon his return from the States and completion of his studies Graeme was ordained by the RPCA and accepted the call to be an associate minister at the Geelong RPC. A few years later the presbytery of the RPCA made the decision to begin labours to revitalise the congregation of the McKinnon RPC.
My family and I moved up to Melbourne in October 2010 to support this work and shortly thereafter we extended the call for Graeme to come and lead the struggling ministry at McKinnon. Graeme will tell you that he was reluctant to move up to the "Big Smoke" of Melbourne with its population of 4 million, traffic, and expensive suburbs. But Graeme felt the call of God upon him to serve and lead as minister in McKinnon nonetheless.
Since that time Graeme has been serving the church day-in and day-out for the past 10 years. Just a couple Sundays ago we were able to spend some time thanking Graeme, Allison and their children for their 10 years of sacrifice and service to the church.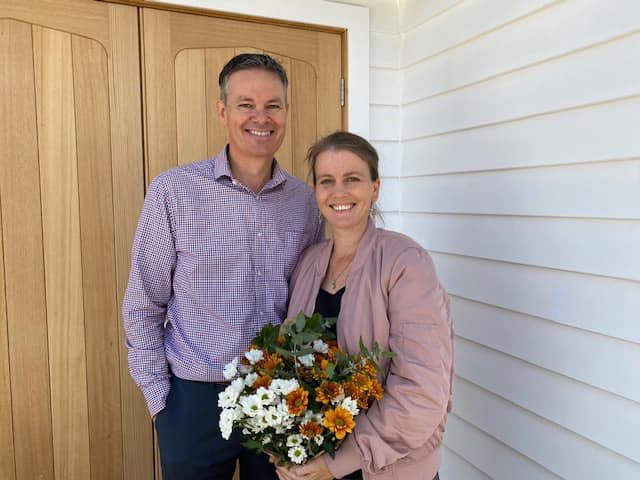 I have served as an elder for the past 8 years and I can attest to the blessing Graeme has been to the church. He ministers with our Lord's servant heart. In an age when we hear of so many using the pulpit shamefully for power, monetary gain or prestige, Graeme is the opposite. He labours in humility, experiencing God's power in his own weakness at times, and he truly seeks to be a good shepherd who leads and cares for the sheep.
We at McKinnon are thankful to God for this milestone as we give thanks for Graeme's service and also recognise our continued reliance upon our almighty God for the growth of this ministry. May God continue to use Graeme to faithfully preach His Word and may God build his church through us!
Brandon Fisher, McKinnon RPC