In mid-March 2020, Geelong RPC (Australia) began worshipping online due to the coronavirus pandemic. Despite only having a few days' notice, our session and managers made the transition to online services very smoothly. In the midst of a nation-wide lockdown, we were able to still meet together each Lord's Day for worship—as a congregation in the mornings and for presbytery-wide services in the evenings—and then stay around afterwards for discussion and fellowship. We definitely missed in-person worship and conversation but were so thankful to have the means by which to continue these online.
In line with state government restrictions, our services remained exclusively online for around ten months. We met together back in our church building about six weeks ago. It has been such a blessing to be together for worship again—we certainly understand David's joy to be going to the Lord's house in Psalm 122! Our services look a bit different at the moment, but we are very happy to be meeting in person once more.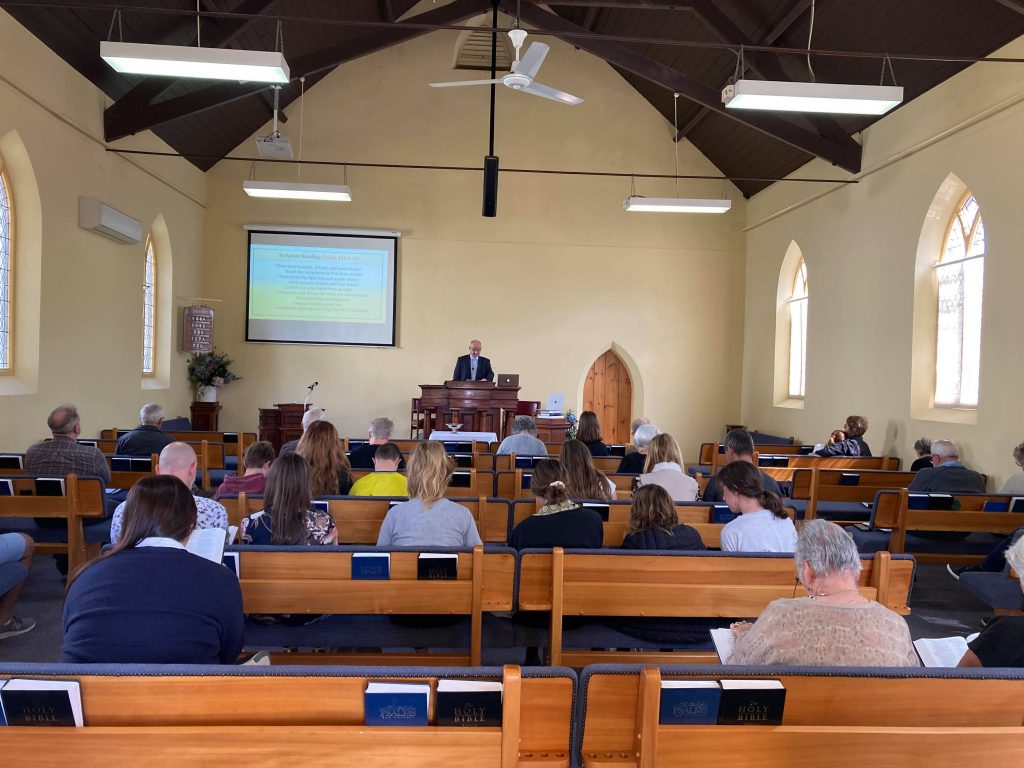 Due to ongoing restrictions on gatherings in Victoria, we are currently operating on a roster system. This means that each person is able to attend the morning service onsite every two weeks out of three. Our services have continued to be broadcast via Zoom as well (though we are currently transitioning to a livestream), which allows those at home to still join in.
Our pews are spaced apart in accordance with the 1.5 metres of social distancing regulated by the government, and those worshipping onsite are split between the church building and the hall behind, where the service is livestreamed. Everyone must 'check in' using a QR code and carry a mask to be used if 1.5m can't be maintained, though some weeks—depending on changes in restrictions at the time—masks are worn at all times when inside the church building. But even if our singing is sometimes a bit muffled by masks, it's wonderful to be singing to the Lord together after such a long time.
A lot about our services is different right now, but the most important things—like coming together to pray, to sing, and to read and study God's word—remain the same and we rejoice in this!
Though our morning services are in person once more, we continue to meet online for evening worship, joining with the McKinnon and Frankston congregations in a combined service. Being able to meet with the whole denomination each week—more often than before COVID—has been an unexpected blessing resulting from the pandemic, giving us the opportunity to worship and have valuable discussion and fellowship.
Our session and managers were able to adapt most aspects of our services to online delivery—including two online professions of faith—but we missed being able to partake of the sacraments together. A few weeks ago were able to finally celebrate the Lord's Supper for the first time since February 2020! To keep things COVID-safe, the elders wore masks and handed out the bread with tongs, but these changes didn't affect the real blessing that it was to come to the Lord's table after such a long time. Baptisms also couldn't take place over Zoom, but now we're looking forward to three couples presenting their little ones for baptism over the next several weeks.
We hope and pray that restrictions will continue to ease, allowing us to get back to regular services and other ministries. At this point, our plan is to remove the roster system in a few weeks so that everyone can attend services in person. Social distancing remains in place, so those who don't fit in the church or the hall will be able to join in the livestream from different rooms in the manse building next door. It will be so good when we can all be in one building again, but having everyone onsite, even in different rooms, means that we can all fellowship together after the service.
We're so thankful that he has answered our prayers in allowing us to return to onsite worship and we hope that you will join us in praising God for his goodness to us. We knew throughout the lockdowns of last year that he remained in control, and we trust that he will continue to be near to us and lead us even in these uncertain times.
Bessie Mikelsons, Geelong RPC