The Pacific Coast Presbytery of the RPCNA met Friday, March 13 and Saturday, March 14 in a not-so-spacious beach house in Newport Beach, California, USA. All Saints RPC (Brea, California) did a great job hosting us, complete with grilled burgers overlooking the Pacific Ocean. There were about 20 presbyters representing our twelve congregations and mission churches. Other elders attended as "consultative members". Elder Roel and myself represented the Los Angeles RPC. Our theological students, Jerry and Johnathan, also attended. Several LA RPC visitors also came; we love seeing people interested in presbytery. Rev. Colin Samul of Great Basin RPC (Reno, Nevada, USA) was elected as moderator, a great honor as he's only been ordained since last April. He did a fantastic job in leading us this weekend!
Student Examinations
Much of the time was taken up in student examinations. Noah Shepherd (San Diego, California) preached from Malachi 4 and was then made eligible to receive a gospel call. Stephen Mulder (Edmonton, Alberta, Canada) was sustained in his Systematic Theology 2 exam as well as his church history exam. He is now eligible to receive a call. James Zhou (West Vancouver, British Columbia, Canada) presented a paper on the theology of sanctification in Watchman Nee's theology. He was not sustained in that examination and Rev. Chris Myers and I will be working with him on that paper to have it ready in time for synod.
Jerry Foltz (LA) preached from Genesis 3:14-15 and was sustained in that examination. The presbytery then heard an exegesis paper of his from the book of Jude. He was also sustained in that examination. George Wallace (Phoenix, Arizona, USA) preached his first sermon toward licensure to preach. He was sustained. Trace Turner (also from Phoenix) preached a warm and moving sermon from Revelation 2:1-7 and was sustained. He then took his "pastoral and evangelistic gifts" examination and had very fine answers. He was sustained. 
Overall the exams were well done and I am pleased with the theological knowledge and spiritual depth of our students.
Standing Committees
Several standing committee reports were given: Geneva College, Home Missions, Youth Ministry, Church Extension, and some others. The overall state of the church is healthy. One change in our procedures is that the annual summer family conference will now be a standing organizing committee rather than an ad hoc committee made up by the hosting congregation.
Congregations and Pastors
We heard reports from our 12 congregations and missions as well as from Rev. McCracken, who serves as a chaplain in Central Valley prisons. One congregation in Nevada (Las Vegas) and two in California (Fresno and San Diego) are in need of pastors. Pray for confessional and loving men to be called to those pulpits! Seven ruling elders throughout the presbytery retired or resigned in 2019, so we took time to pray for God to raise up ruling elders.
Some changes in "provisional" leadership occurred, with myself being taken off the Fresno Session and put on the Las Vegas Session.  Other changes were also made. Rev. England resigned from San Diego and that pulpit was declared vacant as of the end of the month. Our church plants continue to grow. Several congregations are wrestling through discipline issues. 
Overall, God is being very gracious to our little presbytery. The gospel is preached, the sacraments are being administered faithfully, and the members are being discipled according to the Word. Please continue to pray for our churches as the Spirit brings them to your mind. 

Candidates and Credentials
The Candidates and Credentials Committee, which oversees the organization of student exams and ministerial credentials, made several recommendations that passed. One student at Reformed Presbyterian Theological Seminary (Pittsburgh, Pennsylvania, USA)  is being transferred to a Pittsburgh congregation to best assist with learning English as a second language as they have a large Mandarin community. Some changes were made to the requirements of written paper exams. The committee asked for pastors to remind the court of any exceptions to the Westminster Confession of Faith or RP Testimony that have been approved by the presbytery. These will be kept as a notation on their credentials.
Reports Tabled
Two reports were tabled to be dealt with later. One was on video conferencing during meetings and the extent of elder participation via online platforms. That was returned to the committee for further work. The second was a pastor requesting further exceptions to the RP Testimony. That was tabled because the pastor was providentially unable to be in attendance. A communication asking for a committee to counsel a minister towards commitment to a certain doctrine was sent back to the sending session. 

A Time of Repentance
A paper laying out principles of social media use was returned to the author with thanks. It was noted that this paper had helped several men think through their social media use and to seek to use the tool in a better way (including the writer of this report). One pastor publicly  repented for an unbecoming meme that was shared. 
That was not the only repenting that occurred at this meeting. The Fresno Session has worked with a committee since August to help with some shepherding issues. The Session repented of their lack of shepherding concerning the Lord's Day as as well as for allowing an exception to our fourth ordination vow for a deacon (who has since resigned). The Edmonton Session also called the presbytery to repent for allowing that exception to occur (which happened in 2014) without presbytery intervention.
The presbytery repented of this, prayed together and sang Psalm 92 in response. We trust that God has accepted our sincere repentance. The committee that had been working with Fresno was dismissed as the tasked work has been accomplished. Several pastors noted that they were pleased with Fresno's response to all the counsel and look forward to seeing what God will do with them in the future.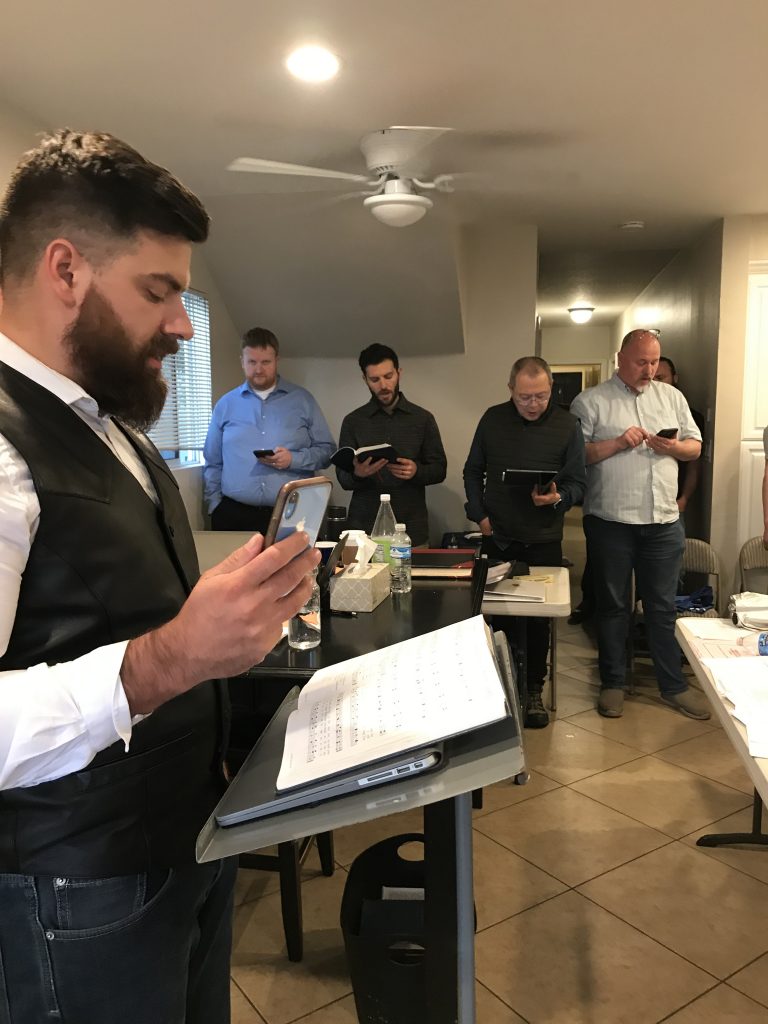 Ad Interim Commission
Three commissions reported, one being the Ad Interim Commission. The AIC does the work of presbytery between stated meetings. AIC for 2020-2021 will be the Seattle Session (Washington, USA).  The ordination commissions for Chris Myers and Colin Samul were also adopted.
Prayer Needed for Finances
One area of prayer is the finances of the presbytery. Due to several additional 2019 meetings (which were pastorally necessary), the general fund of the presbytery has been nearly depleted. The presbytery is enacting an additional $10 per capita assessment on each congregation for 2020 because of this. The 2021 assessment was set at $60 per capita. There will also be no October meeting for student examinations, due, in part, to lack of funds. Pray that God would provide abundantly for our presbytery so that we may get back to church planting, examining future ministers, and strengthening our existing congregations.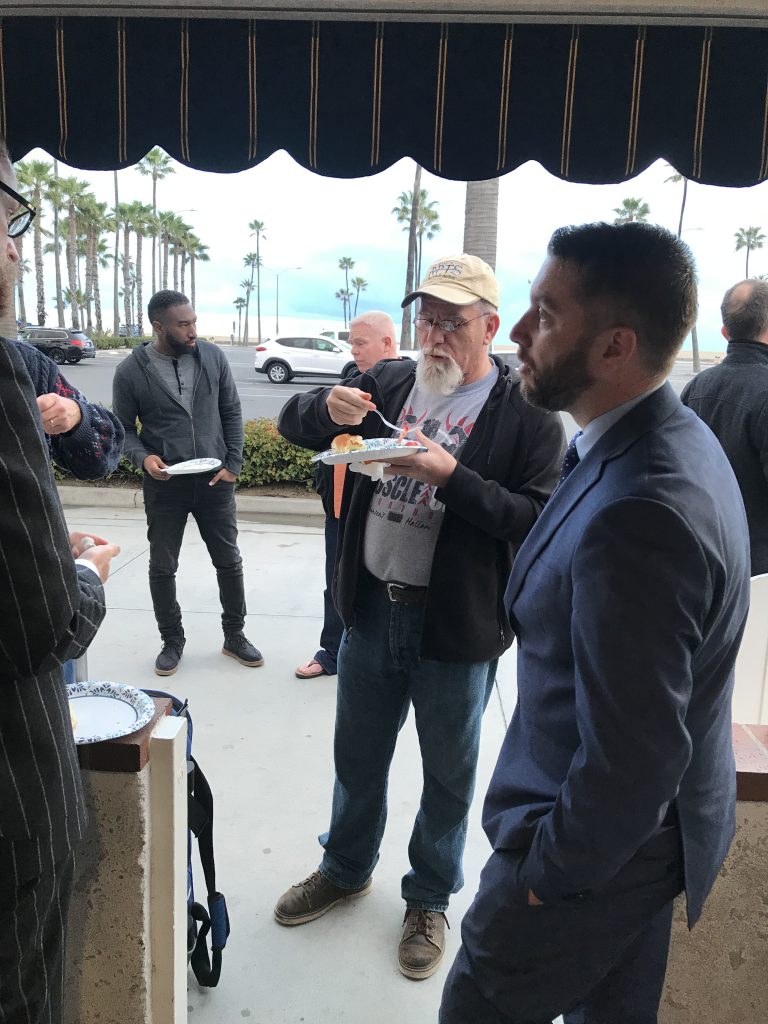 Concluding Remarks
Besides all of the above work, there was plenty of time for prayers and the singing of psalms. The fellowship was sweet and, despite some close votes (including one tie, which the moderator had to break), it was clear that the presbytery is seeking to be united in heart and purpose. I trust the Lord will continue to provide peace to the Pacific (see what I did there?). 
Our next stated meeting is set for March 11-13, 2021 in Reno, Nevada. Hopefully there will be meetings for the installing of three ministers between now and then. Pray to that end!  
Dr. Nathan Eshelman serves as president of the RPCNA's Home Mission Board as well as clerk of the Pacific Coast Presbytery. He has a heart for church planting, pastoral ministry, experiential and expository preaching, and both home and global missions. Dr. Eshelman has been pastor of the Los Angeles RPC since 2009. He and his wife, Lydia, have five children.