The 108th annual spring meeting of the Pacific Coast Presbytery met in the beautiful and pristine town of Squamish, British Columbia on March 7, 8, & 9. Squamish is one of our church plants and it was their first time hosting a presbytery meeting. They did a fantastic job.
The same officers of the presbytery were re-elected: Rev. Mark England, moderator. Nathan Eshelman, clerk and Sam Ketcham as assistant clerk.
Several Students took theological exams and did very well.
Dr. Andrew Quigley of Ottawa, ON RP Church brought greetings from the St. Lawrence Presbytery. He then presented a case for starting the RP Church of Canada, a distinct denomination from what would become the RP Church of America. He based his arguments on our understanding of national covenanting and the establishment principle.
Several other reports were given to the court. We heard from the church extension committee on the work of seeking out church planting opportunities in the presbytery. That committee continues to labor and pray towards the planting of more churches and reaching out to like minded churches, such as the Associated Presbyterian Church in Vancouver. Their pastor did join us for our meetings and brought greetings from that congregation.
A report on missions exploration in West Vancouver was presented. James Zhou, our newest student of theology, is leading a Bible study there with 20-30 Chinese immigrants, most of whom are new converts. They are pleading with the presbytery to organize them, baptize the ones who are still unbaptized, and bring further instruction in reformed theology. A commission was set up to investigate, and if appropriate, organize them as a mission church. Rev. Hsing Tang, who speaks Chinese, has been quite helpful in assisting the presbytery to discern this request. It looks very hopeful.
The treasurer's report was given by Aaron Piper via FaceTime as he could not attend the meeting. He made some suggestions and talked to us about the finances of the presbytery.
In the youth ministry report, we heard about the several opportunities provided to our young people for growth and spiritual development. From the youth conference here in LA to the annual Theological Foundations meeting, opportunity for our youth remains important to us. The presbytery is hoping to see a Theological Foundations Weekend soon as well, that is a weekend of discipleship while camping and hiking.
Each of the sessions then gave report on the state of their congregations. Some of the familiar highs and lows are shared among us: growth in numbers, need for ordained officers, discipline issues, and the sense of being stretched of the LORD. After hearing the Las Vegas report, the presbytery called for a day of prayer and fasting for March 13, 2019. We are pleading for a minister for that congregation as it has been a half a decade without pastoral leadership.
Rev. McCracken also reported on his ministry to the prisoners of the Central Valley. He is ministering to hundreds of men a month and seeing fruit of his labor. Following each report we spent time in prayer for each congregation and their specific needs. This is always a high point of our presbytery meetings. 
A few people were honored by the presbytery. The clerk was thanked for a decade of service to the presbytery. Rev. Maginn was given a very loud and long applause for 19 years of pastoral ministry to the Phoenix Church. Elder Howard Huizing and Irene Huizing were also honored for their many years of service to the presbytery, with special emphasis on their investment into the church plants of the presbytery. Elder Huizing has served as an elder in the following congregations: Brea, Irvine, Los Angeles, Orange, Santa Ana, San Diego, and Tucson. Howard's many decades in the courts of the church will be missed. Thank you Howard and Irene.

Elder David Ashleigh called for one hour of additional prayer for the presbytery and her needs. The court then took one hour to join together in praying for the various needs of our presbytery, whether they be for growth, wisdom, finances, officers, or other things. This was a break from our normal process, but one that was useful and clearly needed. One visiting minister said that our presbytery is experiencing a "golden era" and encouraged us to not rest in that—but to press ahead in unity, peace, and progress. Prayer meetings in the midst of presbytery will help to foster that vision.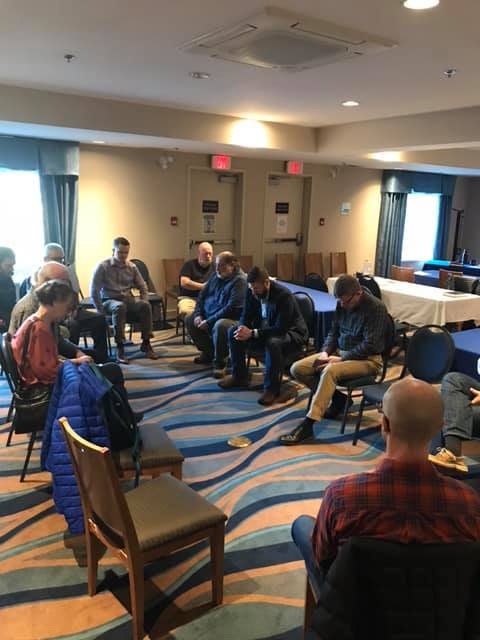 There's so much more that could be said—from the dozens of psalms that were sung, the passionate and tear-filled sermon that Rev. Hackett preached, the hospitality of the Squamish congregation, the joys and fears, to genuine unity that we possess—the sense of God's work among us is evident and shared. It is a good season for the presbytery, and with prayer, fasting, and commitment to the ordinary means of grace, I hope that the next 108 years build on that momentum.
Soli Deo Gloria,
Pastor Nathan