On 18th November, Stornoway RPC hosted special services, which we had advertised to our community. These services were no different from a usual Sabbath, except that the congregation made a special effort to invite a few people each. We did this because of our conviction that "faith comes by hearing, and hearing by the word of God." Special leaflets were designed that advertised the themes for each service and we each took a few so as to invite along friends, colleagues, and neighbours. Additionally, we knocked on the doors of the student flats which are right next door to the building where we worship. Each person that we spoke to there was aware that a church met next to them and were told they would be welcome to come.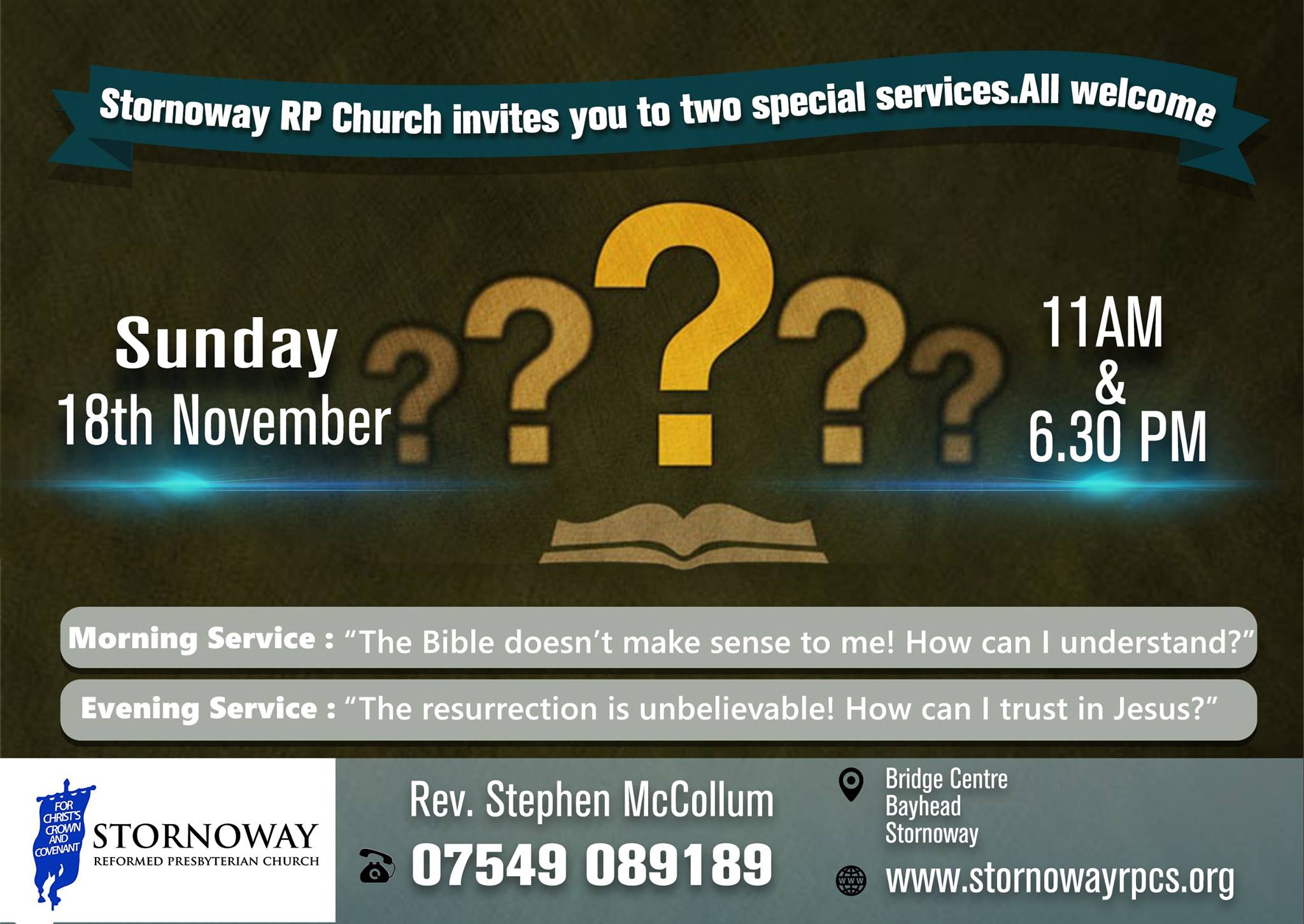 Despite the fact that many of those we invited showed little interest, we were encouraged to have three new faces at the morning service and four at the evening service. In the morning, we considered "The Bible doesn't make sense to me! How can I understand?" looking at the Ethiopian eunuch. He couldn't understand what he read until he knew that the prophet Isaiah was speaking of Jesus. Equally so, the Bible will never be understood unless we see that it is the story of God, in Christ, reconciling the world to Himself. Once we understand the cross then we can understand the significance of what happens throughout the Bible.
The theme of the evening service was, "The resurrection is unbelievable! How can I trust in Jesus?" We thought of Thomas the sceptic, who had more than enough evidence to believe the resurrection. Many begin with the presupposition that supernatural things don't happen and therefore reject the resurrection. We were challenged to look at the evidence for ourselves which leads to only one conclusion – we must profess, "My Lord and my God!"
You can listen to the recordings of both talks here.
Stephen McCollum, Minister @ Stornoway RPC