Jesus Christ gives many gifts to his Church.  One of those gifts is Jeremy Walker, pastor of Maidenbower Baptist Church, Crawley, in south-east England.  Jeremy accepted the invitation of the Lisburn RP Session to be the preacher at our biennial Bible Conference Week.  This took place from 15th-19thOctober 2018. The theme for the week was "Glimpses of Redemption" and from Monday through to Friday the primary topics of Redemption were dealt with in five excellent expository sermons which gripped the mind, stirred the emotions and challenged the will.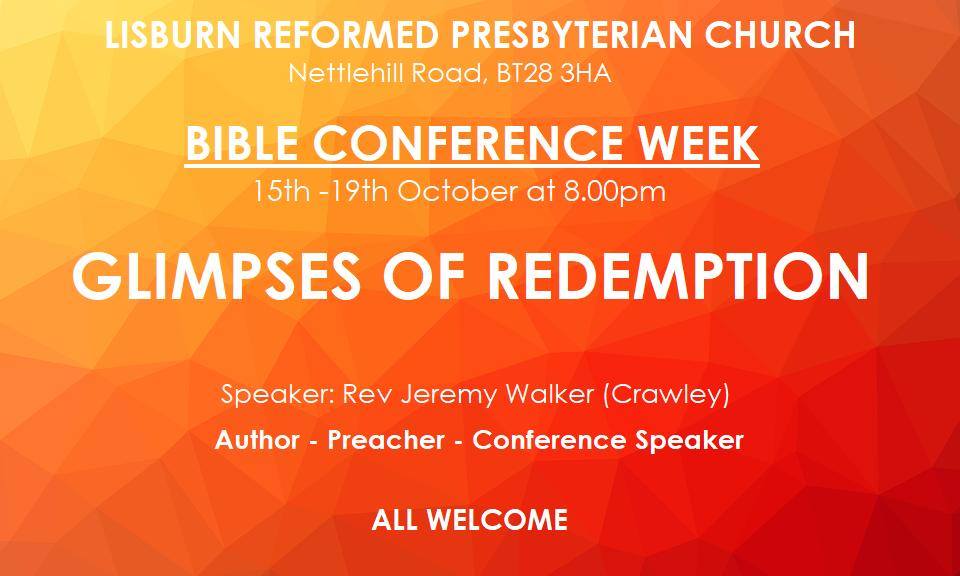 Monday evening the topic of 'Ruin' was considered from the text Ephesians 2:1-3.  Man was ruined by the Fall and, as a consequence, was spiritually dead.  The Ephesian believers, however, had known the grace of God to transform them, "But God, being rich in mercy … made us alive together with Christ" (Eph. 2:4, 5).  We were told that this would be the experience of all who look in faith to Jesus Christ. On Tuesday evening we were led to consider 'Ransom' from the text Mark 10:45  "For even the Son of Man came not to be served but to serve, and to give his life as a ransom for many."  This sermon explored the mercy of God in the sending of his Son, who willingly paid the ransom price for sin, in offering himself as a sacrifice.
Appropriately on Wednesday we were given more than a glimpse of the glorious 'Resurrection' of Jesus.  The text that will be forever riveted on our minds was 1 Cor. 15:20  "But in fact Christ has been raised from the dead, the first fruits of those who have fallen asleep." Thursday led us from Resurrection to 'Coronation', when the grand theme of Christ's mediatorial Reign was developed from Phil. 2:9-11. We were reminded of the majestic truth of 1 Cor. 15:25 "For he must reign until he has put all his enemies under his feet." Friday night brought the week to a climax with the congregation being led to consider Christ's glorious 'Return'.  Matthew 25:31,32 was thoughtfully opened up and vividly preached, bringing challenge to both believer and unbeliever present.
Supper followed each meeting with opportunity being given to browse and buy books supplied by the Covenanter Bookshop.  Some of Jeremy Walker's books were on display with purchasers taking the opportunity to obtain the author's signature.  An excellent week was much appreciated by the congregation and the many visitors who came.  There was a sense of God's presence each evening and the voice of Christ was heard through the Word, sung, read and preached.
Rev Robert McCollum, Former Pastor of Lisburn RPC