The Vines Road school Holiday Program, organised by Geelong RPC took place on 4th October. There were Games, art, stories, the Gospel and sausages! Each school holidays for the last few years, the Geelong congregation has been running a school holiday program for primary school kids at a local community centre. We started the program during a time when we were having evening services in the community centre and have continued ever since.
It is a great program and we have enjoyed building connections with kids and families from the local area. The opportunity to work with each other in this ministry and in doing so share more of life together is so valuable but we're also glad each time that we only do it once a term because it's a tiring day!
This October we began with warm up aerobics which is always a hilarious way to start the day! Previously unknown skipping skills were discovered, and new tricks learnt during the fun games rotation. In the wonderful arts and craft section the children made fabric prints and experimented with oil pastels and water colours to produce some really nice pieces.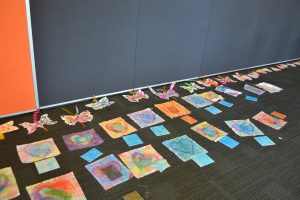 Every child there heard the Gospel in a talk about things you can't choose (like where you are born) and things that you can choose (like your footy team and what you believe about Jesus). My absolute highlight of the day was popping my head in each time a different group was listening to the talk and seeing how engaged and curious they were.
I loved seeing kids that have been coming to the program for years asking questions, and then knowing that seeds of truth were being planted with clear and personal answers. At the end of the talk they were challenged that what you choose about your footy team really isn't that important (even if it seems like it is!), but that what you believe about Jesus is important and we really care about it.
At this stage we plan to keep running these programs each school holidays and appreciate both the support of the whole Geelong congregation and the prayers of the wider community as we work in this ministry.
Emily Mikelsons