Thirteen high school students and two pastors (and leaders) headed out to the Sangre De Christo mountain range to backpack for a program called Theological Foundations Backpacking 2018 (TFB2018). The TFB is a program where kids form the RP church can come and participate in a spiritually and physically challenging week.
The program is ten days long, and is designed to help kids strengthen their understanding and knowledge of the RP distinctives. The students are led into the mountains to learn not only about the outdoors but also to be challenged theologically. I was so blessed to be a part of this year's trip.
Some of the topics for the lectures taught were:
Sola Scriptura

The Regulative Principle of Worship

The Means of Grace: Word and Sacraments

Ecclesiology: Loving The Church

The Vows of Church Membership

The Christian Sabbath

A Defense of the Christian Sabbath

Christian Principles of Finance

Discovering God's Will

Importance of Serving the Church: A Deacon's Perspective

Hospitality: Its Principle and Practice
We were very thankful for, and blessed by the teaching from local pastors, elders, and deacons from the Westminster area: John Duke, Joseph Friedly, John Greene, Alex Greene, Eric Martinez, Matt Parker, Jason Ryce, Sam McCracken, Shane Sapp, Bill Van Sciver, and Jeremiah Wood. Shane Sapp (Westminster, CO), and Jason Ryce (Colorado Springs, CO) led the students in the mountains while hiking.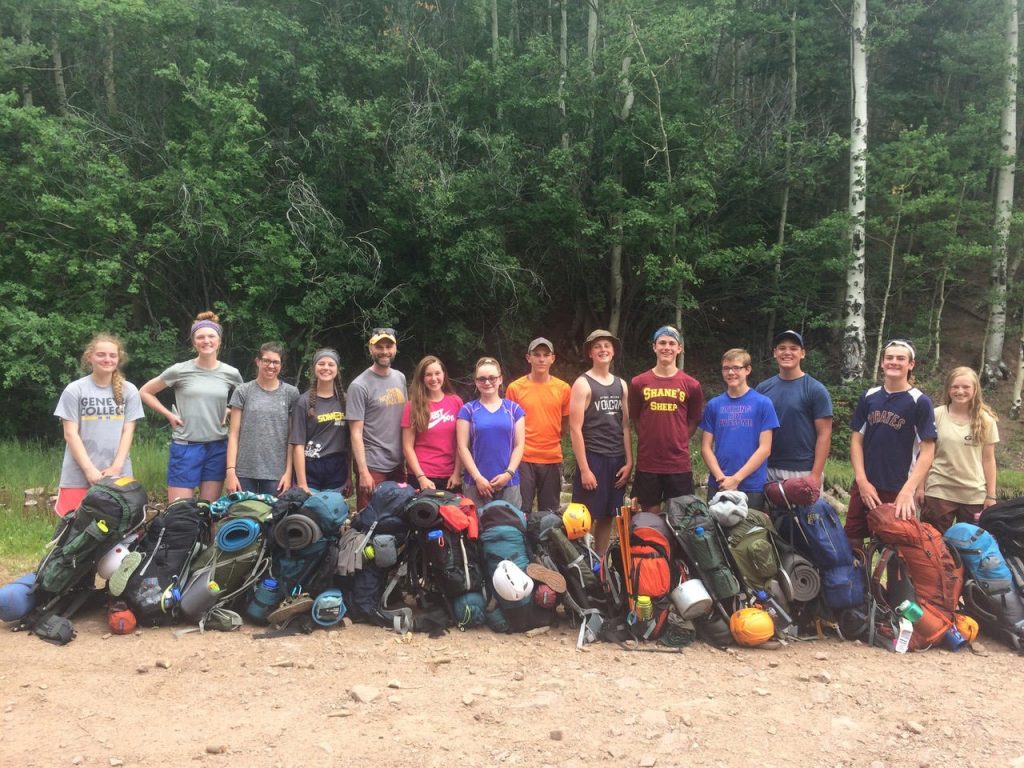 This year there were quite a few Midwest kids from Kansas that attended the TFB2018. Audrey Watson, Thomas Parnell, Sydney Vanhorn, and I (Lily Dennis) were asked to answer a few questions about their time and experience during the TFB. Read our answers below:
Q. What was your most memorable experience from the TFB2018?
A: The most memorable part of theological backpacking trip for me was climbing up to the first summit.  This was the first time I had ever hiked up a mountain, and I know it was the first for many others as well. I had always seen the mountain peaks from below, but it was an incredible change of perspective. 
L: I think it was the whole experience of being outdoors and hiking for such a long time. Some incredibly funny things happened just in the downtimes we had at camp. And we got to dive a little deeper into what we had been learning during our time in the wilderness as well which was so great.
T: My most memorable experience from the TFB was singing psalms at camp under the canopy while it rained.  While we sang almost every night of the trip, this night was different because we were all relieved to be back from the rainy hike we had been on that day, thanking God for keeping us safe on the mountain.

S: My most memorable experience was hiking down the mountain in the rain and hail. It was kind of crazy and we made it down safely!
Q. The TFB teaching focused on our theology of the Church and life in the Church, so can you explain one lesson you learned about your faith and life in the Church? 
A: Learning about the Church's doctrine was powerful to me, because not only were the lectures about loving the church but the Westminster congregation demonstrated Christ's love so well. I was blessed spiritually by the friendships made in our host homes (I would highly recommend the Dukes).
L: Something I took away from the teaching we received is that: the church is much greater than a stuffy building with pews and Bibles in it. The church is such a privilege that we as believers have to help guide and grow us in our faith. I was so much more excited about church life and the community in our church after coming back from the TFB. 
T: During some of our lessons and discussions, our speakers revealed both Old and New Testament evidence for exclusive psalmody. This is one issue I had been thinking about frequently in months prior to the TFB. After processing the information from the trip, I have concluded that exclusive psalmody is the way God has instructed us to worship Him.

S: An important lesson I learned was that the Bible is sufficient. It is enough and will answer all out questions about faith and life. We need to go to the Bible first before we ask ourselves a question about faith. 
Q.The TFB2018 ended more than 2 months ago, so how has the program impacted your life in the Church as a disciple of Christ?
A: The TFB grew my appreciation for the church leaders and I'm much more aware of needs in my church and have been convicted to be more available and helpful in the church.  Service is a huge takeaway from TFB I hope to do my part in serving Christ's church now. 
L: I was constantly encouraged to study and weigh what we had been taught by our parents and the church, by going to the bible for ourselves and asking God for guidance. This is something I am still doing and will continue to do in my life. 
T: Lectures and discussions on keeping the Sabbath day caused me to reevaluate the way I spend my time on Sundays. Speakers encouraged us to focus on rest and worship, without worrying about our own personal activities.
S: After TFB I now know that the church is important, it is a place for believers to fellowship with one another. Fellowship is a key part in our faith and Christ calls us to fellowship.
Q. Give one reason why you think high school or college students should consider attending the TFB2019?
A: Several of the most memorable events while backpacking were either the hail storm we experienced and the guys really stepped up and being gentlemen, or when Pastor Ryce was very patient towards me when I made him hike an extra mile back up the mountain to retrieve my glove. Our leaders were kind, selfless, safe, motivating and very funny. The two were beyond entertaining to watch. They made the trip enjoyable for all 13 of us.  It would not have been possible without them, the encouragement from friends, and the Westminster church.  I am so grateful for a once in a life time experience like this. My life is better off because of it.
L: This program is SO amazing, it has mountains, psalm sings, hiking, good food, wonderful people (and a shower has never felt better at the end). I was challenged more than ever through this week in the mountains and I have grown and learned more from it than I thought I would. I highly recommend, you wont regret it (Just don't blame me when your socks are wet and it 30degrees out… Its part of the experience, right?). 
T: Students should consider attending the TFB because it is a great opportunity to have some of their questions answered and learn more about their faith through interaction with leaders and peers. They will build relationships with peers and leaders in a fun, challenging way.
S: High school and college students should consider going to TFB because it has such an amazing impact on their lives. It gives them information about the church and faith that will stick with them forever. 
Kevin Dennis an Elder of the Shawnee, KS RP Church was also asked to share his view on the TFB 2018: 
Q.As a father of a TFB student and elder who sent multiple TFB students, what impact have you seen in the students who have attended the TFB?  What counsel would you give parents and elders as they consider TFB2019 for their high school and college students?    
K: TFB has been a wonderful experience for our kids! The combination of hiking in the Rocky Mountains, team work, and discipleship makes this a unique experience for young adults who love Christ and want to grow in their faith.
The impact that I've seen is a greater appreciation for the word of God, lifetime friendships, and a deeper love and appreciation for the broader church. My recommendation to parents and elders would be to prioritize TFB along with family camps and RP International Conferences for each of their covenant youth.
We are so grateful for a safe trip, the teaching received, and for the many friendships that were built. Thank you to the Westminster church for the wonderful hospitality you showed towards us, and for your preparations for the TFB2018. Thank you to our amazing leaders Shane Sapp, and Jason Ryce for your selfless attitudes, and for being brave enough lead thirteen high school students on a six-day hike.
We hope and pray that the TFB2019 will have as much of an impact on others as TFB 2018 had on us. 
 Lily Dennis, Shawnee Kansas