The Southfield Reformed Presbyterian Church was established in 1834, the  same year that Charles Spurgeon was born! While the Prince of Preachers has long since entered his rest, the saints in Southfield continue to labor — 184 years and counting — in the momentous task of winning lost souls to Jesus Christ. Though relatively few in number, the Lord has enabled them to engage in a host of evangelistic ministries aimed at reaching unconverted sinners in Southeast Michigan with the message of the gospel.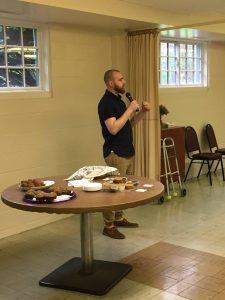 Evangelistic Duty: Every January, the Southfield congregation unites in a special way around the Lord's table by publicly renewing its vows before the Lord. Members observe a 24 hour season of prayer and fasting on the Friday/Saturday before communion, which includes a prayer meeting at the church. During the Sabbath morning communion service, Pastor Kuehner reads the queries from the Covenant of Communicant Membership and Covenant of Baptism, after which the congregation (standing) responds in the affirmative. Included is a promise to "seek to win others to [Christ]." In recent years, the Lord has blessed this practice of covenant renewal as a means of increasing spiritual unity and awakening fresh zeal for evangelism.
Evangelistic Labor:  In 2017, the Southfield congregation welcomed a grand total of 228 visitors to its Sabbath morning services, largely due to members inviting friends and neighbors to church. On months with an extra Lord's Day (or "fifth Sabbath"), Pastor Kuehner makes it a point to preach a sermon directed especially to the unconverted. On such occasions, members are strongly encouraged to invite others to church. Such 'evangelistic services' are generally followed by a special brunch for further interaction with visitors. The congregation has followed this custom since 2013 and has enjoyed the Lord's blessing in it. In the photo (left) a newly converted member shares his moving personal testimony at an evangelistic brunch following the morning worship service, in which he was baptized.
In addition to proclaiming the gospel inside the four walls of the church, the Southfield congregation seeks to "Go and preach" in the highways and hedges of society. In recent months, Pastor Kuehner has engaged in weekly open air preaching at a bus stop in Pontiac. During and after his sermon, two young men from the church typically volunteer to distribute tracts, share the gospel with individuals, and pass out invitations to the church's weekly Bible study, just a few blocks away. On Wednesday and Thursday mornings, Pastor Kuehner also leads chapel services at a substance abuse rehab center in Detroit. Upon graduating the program, the men are offered rides to attend worship in nearby Southfield.
This past summer, five young adults from Southfield labored with RP Missions in Beaver Falls, Pennsylvania; Belfast, Northern Ireland; and Karamoja, Uganda.
Evangelistic Fruit: A prime example of evangelistic fruit is Lillie, a public high school student from Pontiac. Along with her mother and siblings, Lillie began attending the Pontiac Bible Study (pictured above) in 2016, and soon afterward began attending worship in Southfield. After several months under the influence of God's Word, she came to recognize that she had broken God's law and needed a Savior. Under conviction of sin, she eventually placed her trust in the Lord Jesus, made a public profession, and is now an active communicant member.
Not long after her conversion, Lillie was burdened to reach her public high school classmates with the gospel. This led to a series of "Ask the Pastor" outreach events, involving Pastor Kuehner and (on occasion) Pastor Craig Scott of First RPC in Grand Rapids. A Reformation 500 event was also held this past October to introduce students to the life and ministry of Martin Luther.
All in all, the saints in Southfield are very grateful to the Lord for His kindness to them over the past 184 years and remain eager to experience even more of His unfathomable goodness in the land of the living.
Adam Kuehner, Pastor