The Milford/LK GO Team ran from the 19-25th of August. The team consisted of Ben Matthess, Oisin McDonnell, Georgie Allen, Rebekah Moore, Anna Coulter and Laramie Carey, under the leadership of Jonny McCollum and Mark Loughridge.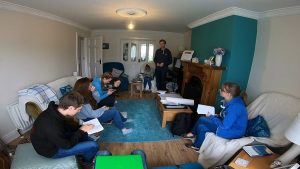 Our week was full of fun and fellowship and lots of hard work! Our theme for the talks at our Holiday Bible Club were the great "I am"s of Jesus.
They helped us remember that Jesus is the bread of life, the light of the world, the way, the truth, the life and the good shepherd!
The messages were well received by the children over the week with the help of our corresponding memory verses and songs.
During our meals in the evening, we learnt of each other's testimonies and the miracle of Christ's work in our lives and others and it helped us grow closer as a team and to the congregations we were working with.
John 6:35 "Then Jesus declared "I am the bread of life. Whoever comes to me will never go hungry, and whoever believes in me will never be thirsty""
A key aspect of the week was our time spent in prayer; giving thanks for His great works, praying for our work of door-to-door to be fruitful and to help strengthen His people of Milford and Letterkenny. We used  Scripture to aid us in our prayers and way of praying.
John 14:6 "Jesus answered "I am the way and the truth and the life. No one comes to the Father except through me""
Laramie Carey