We had a good week at our Vacation Bible School last week. Although we didn't have a lot of community youth, we praise God that we had an enthuisiastic group, and all those involved went home with the wonder of God's creation in the area of birds!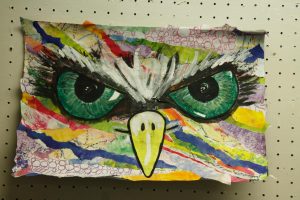 Psalm 104 was sung with "vigor"!  A brief introduction to missions was made as we learned a little bit about a mission family that we could support through our monetary gifts and collecting of cans.  All ages enjoyed "tossing" the beach ball world around and being able to locate on the "world" where the mission family lived and worked.
A special treat was having the local speaker from our county's conservation department come and share information and displays of birds beaks and feet.  Also, Joy Falk (an art education major from our congregation) led the youth in viewing birds from an artist's perspective!  Each student created an eagle or an owl using crayons, paints, etc.,
As a finale, we had a picnic in the church year for the families of those who attended VBS as well as the neighborhood close to the church.  We had the children sing one Psalm and recite some memory work.  Please continue to pray for the working of the Holy Spirit in those who were involved in this year's VBS!
Lana Todd, Washington Iowa