The RPCS runs a programme in connection with Geneva College where students can come to Scotland to study for a semester under pastors and Godly, wise members of the church. Here Rosie Perkins reflects on how the semester impacted her:
Semester in Scotland was a season in life of being discipled by people who deeply love the Lord, and I often share that it was THE BEST four months of my life.
CLASS TIME
The foundation of each day was reading Scripture a while. I grew incredibly with that set time to read the Word every morning.
Class afterwards was discipleship, pure and simple. Kenneth, Stephen, Jimmy, Andrew, and Beth really cared that our hearts be changed by what we learned, that we actually grow in conformity to Christ. Andrew said one day that if studying God's truth through SIS doesn't change our hearts, we're all wasting our time. But praise God, He's faithful!
Learning from godly people, studying personally, and discussing the Bible inflamed my love for God and made me more passionate to serve Him. (I know this has been true for other students as well!)
CHURCH LIFE
Worshipping twice on Lord's days, attending Bible studies, helping with Kids' Club & Covenanter Youth, going to prayer meetings, and fellowshipping…
I'd never had all these at one church before! SIS students are taught what it is to be active in a local church, and that is such a gift.
I am also thankful for all the saints I met in Scotland. I have so many brothers & sisters in the RPCS now! You all are a huge encouragement to me, there's a passion for Christ in many of your members that's incredibly rare. From Donalda's prison witnessing in Glasgow to Rosie Tait's evangelistic heart in Edinburgh, I've made loads of friends I can imitate as they imitate Christ. I pray they can say the same of me.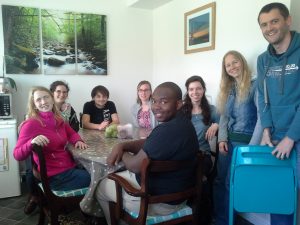 I'd also never been experienced preaching like we sat under in Airdrie and Glasgow. Three years later, I still listen to Andrew and Kenneth during the week, and they are always a blessing to my soul.
TODAY  – Lastly, SIS is the reason I am at my present church. In Scotland, I learned what excellent preaching and shepherding look like in practice. I became ravenous for it. I am so, so thankful to God for my months with His saints in Scotland. He used your discipleship and fellowship to grow me in my love for Him, and then bring me to my present church body.
Rosie Perkins