Trinity Reformed Presbyterian Church in Newtownabbey are hosting an Abortion Awareness event.  The speaker will be Dr Kevin Bidwell (pictured above), who is a Presbyterian Pastor, and a Director at Preganancy Advice Sheffield. He will be speaking on the "Biblical Basis for Pro-Life".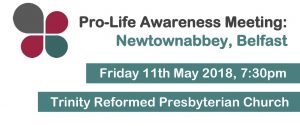 Kevin will be joined by Dr Chris Richards, who is a medical doctor (Consultant Paediatrician) and serves as the director of Tyneside Pregnancy Advice Centre. Chris will speak on the subject of "Putting Ethics into Practice", sharing some of his experiences from the Tyneside Pregnancy Advice Centre.
Everyone is welcome to attend!