It is with heavy hearts that we inform you of the death of former pastor and minister, Rev Knox Hyndman, who died suddenly on Wednesday 7 February. From 1985-2011 Knox ministered and pastored the Newtownards congregation, before his retirement, when he continued to live in the town and invested his time and gifts in Woodstock RP church.
Knox was above all things, a man who loved his Saviour, Jesus Christ.

Like his Saviour, he was consistently gentle, kind, humble and gracious.

He was a man always active and busy in the work of the Lord, and yet also a devoted husband, father and grandfather. We commend to your prayers his wife, Edith, his children, Conor & Rozi, Charlotte & William and Hannah, and his grandchildren, Jonah, Thomas and Benjamin.

'Well done, good and faithful servant…enter into the joy of your master.' – Matthew 25:21
Robert McCollum, for Newtownards RP Church
Knox Hyndman was the first pastor of Woodstock RP Church plant. We're all deeply saddened to hear of Knox passing on to glory. We loved this man so very much and are so thankful to God for him! He was so kind and thoughtful and really put his heart and soul into Woodstock.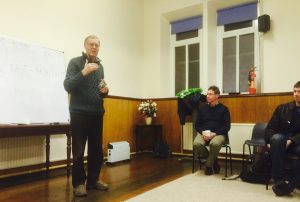 We are so thankful for all that God has done in Woodstock through Knox and we will all miss him very very much. My sincere condolences to the Hyndman family. May you know the comfort of the Holy Spirit at this time!
"Precious in the sight of the LORD is the death of his saints." Psalm 116:15
David Matthess, Woodstock RP Church, where Knox pastored in his later years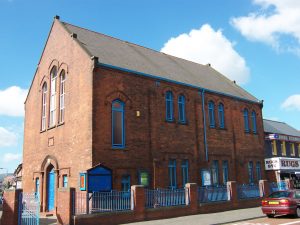 Jesus' prayer has been answered for the gracious, godly and wise Knox Hyndman. "Father, I want those you have given me to be with me where I am, and to see my glory."

Having preached so clearly of that glory, now he sees it.
Knox was a wonderful preacher and pastor. He had an utterly genuine care for people – whoever they were. His winsomeness and wisdom were a real blessing from God. His continued enthusiasm in his 'retirement' for spreading the good news of his Saviour was a wonderful example of 'finishing well'. I am honoured to have known such a man. May God bless his wife Edith, and children Conor, Charlotte, and Hannah and their families, and the wider family circle.
Mark Loughridge, colleague in the ministry
A service of thanksgiving for his life was held on Saturday 10 February at Knockbracken Reformed Presbyterian Church, attended by some 450-500 people. It was recorded and is now available here.