In January of each year, as part of their training for the gospel ministry, the students at the Reformed Theological College in Belfast are required to preach before the Committee of Superintendence: Rev John Hawthorn (Convener), Prof Robert McCollum (Principal), Prof Edward Donnelly, Prof David McKay, Prof Norris Wilson, Prof Warren Peel, Rev Knox Hyndman, Rev Raymond Blair, Rev David Sutherland, Rev Andrew Kerr, Dr David McKelvey, Dr Trevor McCavery.
This year the assigned texts were:
Isaac Berrocal                  Mark 10:46-52
Peter Dundee                   James 5:16-18
John Roger                      Luke 4:16-22
The preaching took place on two separate evenings – 2nd and 4th January 2018.  On 2nd January Clare RP congregation (in Co Armagh) hosted the event.  Members of the Clare congregation and other interested members and friends were present for the worship service and to hear Isaac and John preach.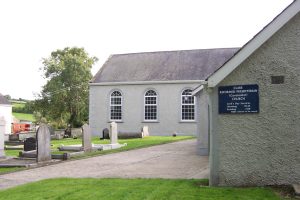 The Principal of the College, Prof Robert McCollum introduced the evening by informing the congregation of the format of the evening.  He then invited Isaac to lead in worship and preach from his assigned text. Although Spanish is Isaac's first language he has gained a good grasp of English, and while his accent may have made it difficult for some to understand, he preached with great earnestness and passion on 'Blind Bartimaeus'. After prayer and the singing of a Psalm 119 part 5B, John Roger read Scriptures and preached an excellent sermon on the visit of Jesus to the synagogue in Nazareth.
On Thursday 4th January Peter Dundee preached in Limavady RPC, Co Londonderry.  A good congregation had assembled for the service and to hear Peter lead in worship and preach on James 5:16-18.  With a direct and passionate delivery Peter focused on Elijah as a challenging example to believers today in relation to prayer.
The members of Committee, having listened to the preaching on both evenings and made notes on their Assessments Forms, met to discuss the three sermons.  The three sermons were formally approved as having reached a satisfactory standard for third year students.  Prof McCollum noted the Committee's remarks and at the next Homiletics class he gave written and verbal feedback to the students.
It is the prayer of the Committee that there will be a good intake of students for the next 3-year cycle which is due to commence in September 2018.
Robert McCollum, Principal @ RTC