In August last year the Atlantic and St. Lawrence presbyteries of the RPCNA held their annual Kids & Teen Camp and Family Camp at White Lake Covenanter Camp in the Catskill Mountains. The Kids & Teen Camp ran July 29‐August 4 and had record attendance of 97 campers! Family Camp was August 4‐11 and Pastor Alex Tabaka (Broomall RPC) taught on the book of Hebrews. Activities throughout the week included an active team challenges, intense archery tag, a festive barn dance, and many other exciting events, but the climax came at the end of the week. The week ended with a dedication bonfire for our newly purchased 10 acre plot of land!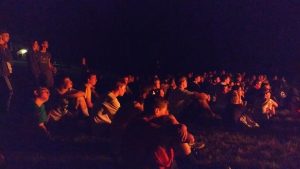 Bagpipes were played, songs were sung, and Chinese floating lanterns were lit and sent aloft to commemorate the event and to look forward to the future of camp!
Elaine Klingensmith
We here at the RP Global Alliance are delighted to hear of God graciously providing this new land. We pray that it will allow these presbyteries to continue to run youth camps and train up our young people and that God would indeed bless these efforts for many years to come! Camp dates for next year have been set with Kids & Teen Camp running July 28 through August 3 and Family Camp occurring August 3‐10.