Denny Prutow grew up in southern New Jersey. He came to faith in Christ through the ministry of an Army Chaplain while serving in Korea. Denny then came home and attended  theological seminary before serving as an Army Chaplain himself (with Special Forces and then in Vietnam). Following his time in the military, he served as a pastor first in the Orthodox Presbyterian Church and later joined the Reformed Presbyterian Church, becoming pastor in Sterling, Kansas.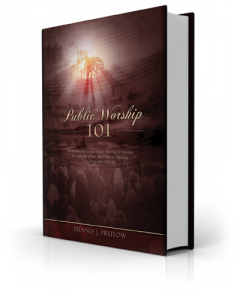 He became Professor of Homiletics and Pastoral Theology at RPTS in 2001. He retired in 2013 after forty-five years of active ministry and is now RPTS Professor Emeritus of Homiletics. He has written books including So Pastor, What's Your Point?, which we recently featured on the Global Alliance website, as well as Joyful Voices, and Public Worship 101.
With all this experience Dr Prutow is a man worth listening to! If you aren't much of a reader you can listen to many of his lectures on YouTube.  The topics covered in these lectures are very similar to those covered in his book, Public Worship 101.
Worship / Regulative Principle (Part 1)
https://www.youtube.com/watch?v=h_vhJrXsfdI
Biblical Transitions in Worship (Part 2)
https://www.youtube.com/watch?v=3Y-t6PF-TWk
Celebration vs. Worship: OT Celebrations – Not Patterns for Worship (Part 3)
https://www.youtube.com/watch?v=Xa9P8dQdWFA&feature=youtu.be
Typology of Musical Instruments (Trumpets, Harps, Cymbals) (Part 4)
https://www.youtube.com/watch?v=CwSguSjShVs
Origin of New Testament Praise: OT Temple to NT Church (Part 5)
https://www.youtube.com/watch?v=XJKN8i5s-q0
No Instruments in Worship? (Objections Answered – Part 6, 1 of 2)
https://www.youtube.com/watch?v=ooaP8LRpjs4
No Instruments in Worship? (Objections Answered – Part 6, 2 of 2)
https://www.youtube.com/watch?v=2ScjGl5k74Q
Exclusive Psalmody (Colossians  3:16)
https://www.youtube.com/watch?v=2ScjGl5k74Q
What? Only Sing Psalms? (Objections Answered)
https://www.youtube.com/watch?v=Kt-8G9zSV7A
Cherish the Christian Sabbath
https://www.youtube.com/watch?v=-HdD1JWTs3E