Six weeks has passed since Puerto Rico was decimated by hurricane Maria. Both British and American media outlets are reporting mass destruction, and little help. The BBC earlier this morning said: "The level of destruction here is astonishing. Virtually nothing remains standing. Shoes, plates and items of clothing are scattered where homes once stood."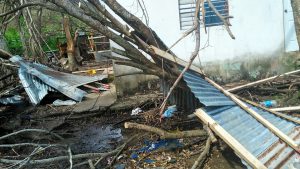 The Guardian newspaper reported "More than six weeks after Hurricane Maria, the Federal Emergency Management Agency (Fema) is still hobbled by the lack of electricity and reliable cell and internet service – stopping Puerto Ricans from accessing assistance they desperately need…To apply for federal aid, residents must fill out a form online or call a telephone number – but no one has access to the internet or phone in Utuado. Fema has gone back to paper and pencil in Puerto Rico to remedy this, but residents said the first federal representative only showed up in Utuado last week, 42 days after Maria."
What can we as a church do to help?
Pastor Paul Brace from the Hazleton Area RPC has one idea. "Days prior to the first evening service (of the congregation's church plant in nearby Harrisburg), we were informed of a Spanish-speaking congregation [also] in the Harrisburg Area, who were interested in our work.  The pastor and his family attended our very first meeting.  We had 2 men, plus that pastor's wife, in attendance to translate, and they expressed a desire to be more Reformed.  They returned again the second month!  This time, they were quite emphatic of their desire to be part of a Presbytery, and increase their learning of what it means to be Reformed and Presbyterian.  While Hazleton Session and Atlantic Presbytery scramble to determine the best course of action, one of Hazleton's members, our translator Scott Rocca, was invited to teach them how to Sing Psalms.  This he did back in August, and was very well received.  They have also asked for RP preaching."
Pastor James Machuca (of the Spanish speaking congregation) has since expressed his desire to join the Atlantic Presbytery, along with his congregation.  He met with the members of  Atlantic Presbytery meeting last week, there is still much to be discussed but the process has at least begun.
Pastor James Machuca is a Puerto Rico native. When Hazleton Area RPC asked how they could help, he stressed that we not send anything in the first few weeks, saying it wouldn't get to where it was needed most due to widespread corruption in the country.  Instead, he will personally be traveling to Puerto Rico later in November and can deliver aid in-person. The deacons at Hazleton have been collecting financial donations and will then release them to Pastor Machuca when he is ready to go.  "We do not plan on placing heavy restrictions on how the monies are to be distributed, as we are confident that the Machucas know better than us how to use the gift to most glorify Christ, though we will expect reports on where it all goes.  There is also a possibility of sending actual goods, as we do have a cost-effective means of shipping.  If you or your congregation desire to contribute to this effort, please direct your cheques (payable to 'Hazleton Area Reformed Presbyterian Church')  to our treasurer and deacon Joe Davidovich. "
Joe Davidovich
P.O. Box 21,
Rock Glen, PA 18246