Cullybackey Reformed Presbyterian Church held an outreach event on Wednesday 25th October themed on the 500th anniversary of Luther's protest in Wittenberg, which is generally appreciated as the tipping point of Reformation.
Our pastor, Rev. Philip Moffett took as his theme for the talk "What is a True Protestant?" The emphasis for the evening was on the word "true". Our church is in a part of the country where the large majority of people are born "Protestant" as opposed to "Catholic", yet our fear is that the vast majority are only culturally Protestant, having forgotten the the historical meaning of the word, the main doctrines of the movement and their significance to us today.
Philip's burden, therefore, was to present a brief history of Luther's life and thought that led to the Reformation, identifying a summary of the chief tenants of the early Protestant movement in reaction to the abuses and corruption of Roman Catholicism. However, more importantly he sought to show that the primary focus of the Reformation was to biblically answer the question of how we are saved, by faith in Christ alone? or by faith and the good works we do? The clear call of the Gospel and our greatest need is to seek salvation by placing our trust wholly upon Christ.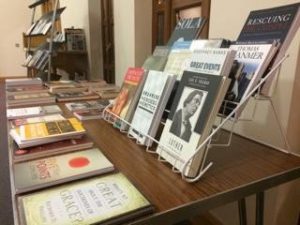 We had a good number of visitors in and the evening finished with a cup of tea.
Paul Wallace, Cullybackey RPC (Ireland)