The CY Summer Conference (organised for the youth in the RPCI) is a date in the calendar not to be missed! It's a yearly event that's greatly anticipated by all as the summer draws to a close. This year's conference was no different and certainly didn't disappoint!
The theme for the day was 'Living for Jesus, Dying for Jesus'. Our speakers Rev Jonny McCollum and Rev Mark Loughridge spoke about living the Christian life in light of the cross, using the parable of the treasure from Matthew 13, as a starting point. We were firstly challenged by the question 'where is your treasure?' as we considered Jesus, the cross and the wonderful gifts of salvation and eternal life. Jesus is our precious, real, worthwhile treasure, whom we should joyfully delight in and relish. As we live for Him, we are also to die for Him and leave behind the desires of this world. We were reassured that clinging to Christ is worth immensely more than what the world offers. Even as we face times of difficulty and opposition from the world, the Lord is still our rock and valuable treasure. We were reminded that this treasure can never be taken away but will instead be kept in heaven. It really was such an encouraging message to hear.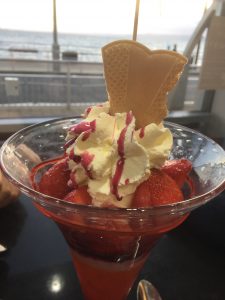 The day also entailed time for fun, friendship and fellowship. It was lovely to see a variety of age groups gather together to learn about God's Word and to enjoy good company, either catching up with old friends or making new ones. Our evening finished off nicely with a trip to Morelli's (a local ice-cream store) for some tasty treats and that was the CY Summer Conference 2017!
Vicki Blackburn, Stranorlar RPC