Go Teams are week long mission trips run by the RPCI. Last week a team was sent to the Riverside church in the city of Newry, N Ireland. Below is one team member's account of how they got on:
The Newry Go Team is always a big blessing to Riverside congregation every year. This year we held a three day children's holiday Bible club in the church building. Our theme for the week was "Superheroes of the Bible".
The talks for the children were on David, Esther, and Elijah, given by Nigel Agnew, Yvonne Wilson, and Ruth Murphy. The children enjoyed an action packed week of activities which included learning a memory verse, singing Psalms, and playing games.
In the evenings we held a club for teenagers. The three talks were on Samson, Esther, and Gideon, given by John Graham, David Matthess, and Peter McCollum. It was a good time for the young people to hang out and have a bit of fun doing various games, but also to think more deeply about the Bible characters they had grown up learning about, seeing how these Godly men and women had to rely on God's provision and how their stories point us the God's ultimate provision, salvation through Jesus Christ.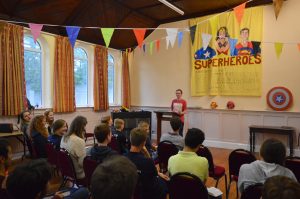 We spent time distributing leaflets around the doors in Newry and hope and pray that the magazines we put through people's doors would be read. On Thursday afternoon, we went into the centre of town and a few of the team played music for the public. Meanwhile, the other members of the team got busy chatting with people. There were a number of positive conversations and we were about to share the gospel with people. Although the rain meant we had to run for shelter, it was actually a good thing as we got more opportunities to chat with people who were also waiting for the rain to pass.
On Wednesday afternoon, we held a tea party in the church. The hall was decorated and the fancy tea sets were brought out. The room was then filled with folk chatting away. This provided great opportunities to build friendships with people in the community.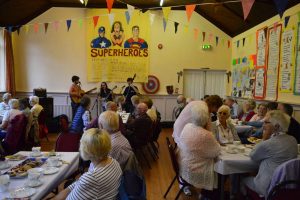 On Tuesday night, we held a special service of Psalm singing accompanied by the recitation of the books of Ruth and Jonah from Noel McCune. It was wonderful to hear that reminder of how God has worked in the past. It gives us reassurance that he is still working out his purposes today.
Rev Nigel Agnew, the minister of Newry, did three Bible studies with the team throughout the week. These were aimed at helping us to defend our Faith and were very helpful. Every morning, the team met together and began with a reading from scripture and a time of prayer. This is vital before the day's evangelism begins. We must spend time asking for God to bless his work, for "Unless the LORD builds the house, those who build it labour in vain. Unless the LORD watches over the city, the watchman stays awake in vain." Psalm 127:1-2
Please continue to pray that God's word would advance in Newry. Newry's population is made up of a mixture of Protestants and Catholics, a high percentage of which are nominal Christians. They go to church or Mass and they think that is enough. Please pray that God would convict people in Newry (Catholics, Protestants, and Atheists alike) of their need of the Saviour. Please pray for Newry congregation, that God would continue to make them a faithful witness to the city all around them.
David Matthess