The children enter and see a sign: "You are entering Upward Bound National Park."  A large raccoon sits near the sign. As they cross over a wooden bridge they see colorful fish sporting in the stream that flows beneath it. An oversized frog zaps a fly off a nearby stone with his long red tongue. They pass by trees, tents, camp chairs, and a glowing campfire. A large brown bear smiles at them next to a sign that says not to feed him. Ahead is another campsite with a majestic purple mountain in the background. Overhead is a blazing sun, fluffy clouds, and wheeling birds. Is this the great outdoors? No! It's the great indoors! It's Vacation Bible School!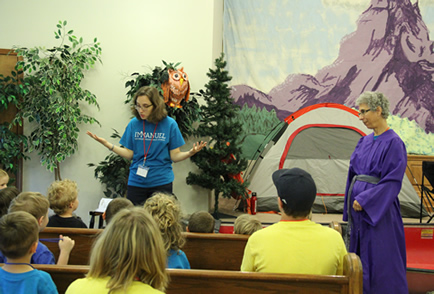 The 2017 Upward Bound Vacation Bible School was a joint effort between Immanuel Reformed Presbyterian Church and their neighbor down the road, Battle Ground Bible Church.   These two neighboring churches are from different denominations working together for the glory of our Lord and Savior Jesus Christ. Both churches had organized summer VBS programs individually in the past. This is the second year they have conducted a joint VBS program. Members of both churches agree: Behold how good and pleasant it is for brethren to dwell together in unity! (Psalm 133: 1) and Two are better than one because they have a good reward for their labor. (Ecclesiastes 4:9 ) One of the leaders of our VBS put it this way: "I think it is a good witness to the community to see churches with different distinctives work together to proclaim the truth that they affirm in common. I think it is good to get to know and
appreciate brethren who don't do everything the same way

we do."
This VBS is different still.  Though it is filled with the normal amazing snacks, fun and entertaining crafts, great story times, rewards for completing tasks at home, fun songs complete with hand motions, and skits designed to tell the gospel in an easy understandable way, it also has some very unique aspects.  The children learn a psalm also complete with hand motions and the oldest group spend their week participating in service projects.
For five years we've been glad to use materials from VBS Reachout Adventures, which help us present the gospel clearly and respect the Bible's teaching by foregoing images of God. This year we were excited to welcome over 100 kids into our program, about a third of whom were new to both congregations. We're praying for God to continue to bless our gospel-partnership with the Battleground Bible Church and to make His gospel take deep root in the kids' lives.
Michele Daniels