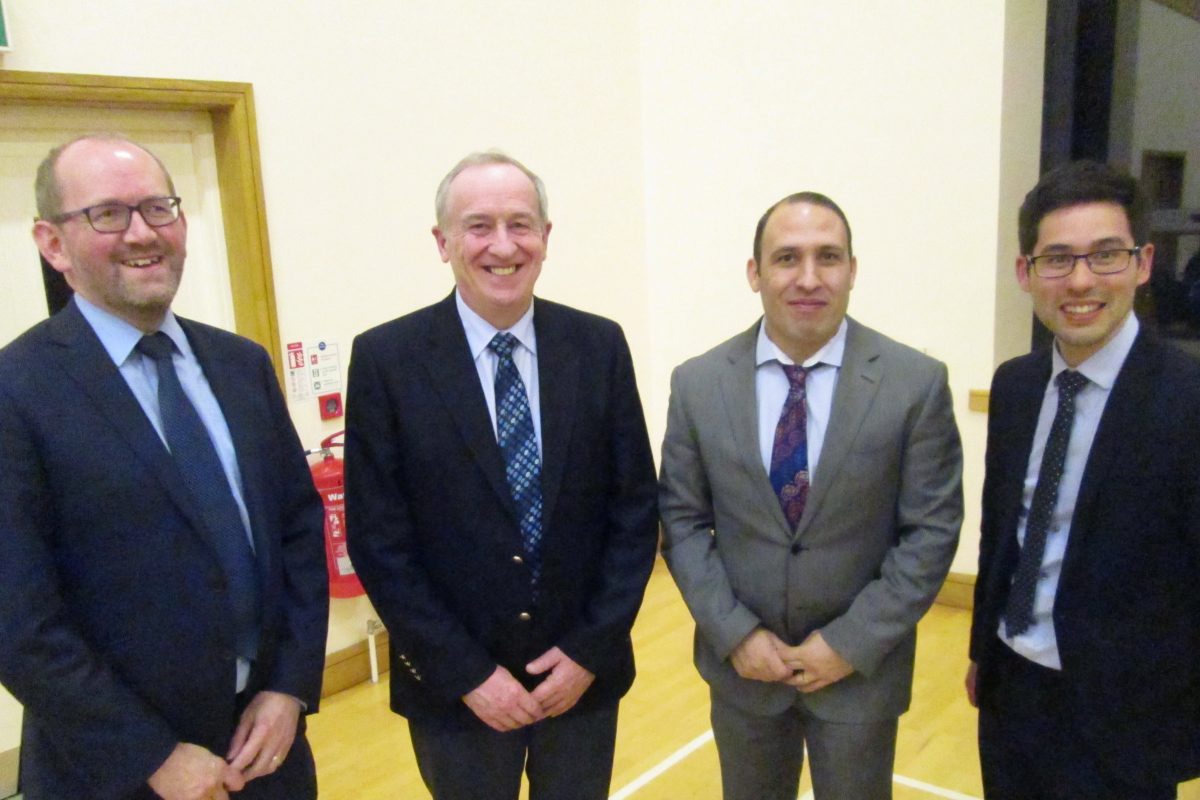 The closing meeting of the Reformed Theological College was held at Knockbracken on Thursday 20th April.  The meeting was opened with devotional exercises (Psalm, Prayer, Scripture Reading) led by the chairman Rev Andrew Kerr.   Prof McCollum (principal) gave a report on the year's work at the College.  He acknowledged with thanksgiving that the course of lectures across all departments had been completed, the professors and lecturers having enjoying a good measure of health throughout the year.  Two visiting lecturers gave stimulating lectures in the autumn and spring terms. Rev Kenneth Stewart (Glasgow RPC) addressed the students on 28th October on 'ministerial faithfulness'.  On 14th March, public lectures were given by Rev Jeff Durbin (Apologia Church, Phoenix, Arizona) on 'presuppositional apologetics'.
The principal remarked on the privilege of teaching the dedicated and enthusiastic students who had completed their 2nd year – Isaac Berrocal, Peter Dundee and John Roger.  The year began badly for Isaac as he had a perforated bowel which required surgery.  He had successful surgery in December and made a speedy recovery.  Isaac was able to resume classes in January.  With the help of the other students he quickly caught up on the lectures he had missed.
Examinations were held from 4th -14th April.  The marks obtained by the students demonstrated a year of hard work and each student was highly commended.  In recognition of the examination results obtained, bursaries were awarded to the two RP students and a special prize was given to John Roger, guest student, who had obtained excellent marks in all his examinations.
Prof McCollum pointed out that the next student intake was September 2018.  He called on everyone present to pray that men within the church would hear God's call to serve Jesus Christ in mission and ministry, that there would be a good class of students for the next three years.
The closing address was given by Rev David Silversides (Moderator of Synod)  He preached from  Ephesians 2:8-10 on the subject, "A unique gospel;  a unique people and a unique God".
A delicious supper was served by the members of the Trinity congregation and thoroughly enjoyed by all present.  The Covenanter Book Centre, which remained open for the evening, enjoyed some custom from those attending.  The opening of the new session of the College will be held DV at Knockbracken on Tuesday 3rd October at which Prof Warren Peel will give the lecture.