On Friday 21st April, the Eastern Presbytery C.Y had an encouraging and uplifting evening on Friday when we concluded the year of events with our annual Praise Service. The meeting was held in Newtownards R.P.C. Rev. Robert McCollum spoke to us on the topic of 'Do Not Worry', a message that was very applicable to all of us as we approach a busy time of the year with exams, subject choices, deadlines, etc.
Robert reminded us from the passage in Matthew 6: 25-34 that:
1. There's a Right Worry and a Wrong Worry
2. There are Four Problems with Anxious Worry
– Anxious Worry doesn't obey Jesus
– Anxious Worry doesn't trust God
– Anxious Worry doesn't stand Out
– Anxious Worry doesn't seek first God's Kingdom
'If there are to be troubles tomorrow, then there will be new mercies tomorrow' – was a quote that stuck with many of the listeners by the end of the night. We all greatly benefited from this message from God's Word.
We must say a huge thank-you to the legendary C.Y from Newtownards that put on a brilliant spread of desserts and cupcakes for everyone to enjoy, they went down a treat!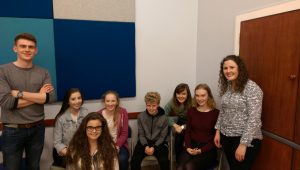 Thank you for your continued interest and support in the E.P.C.Y Events each year. We ask that you would continue to pray for them, that they may be a means of grace for the young people, but also pray for the young people themselves as they are living out their faith in school, at home, among friends, etc. May they remember the things that they have learned from our year of events based on the theme, 'Things Jesus Said' – Matthew 5-7.
Alastair McCollum