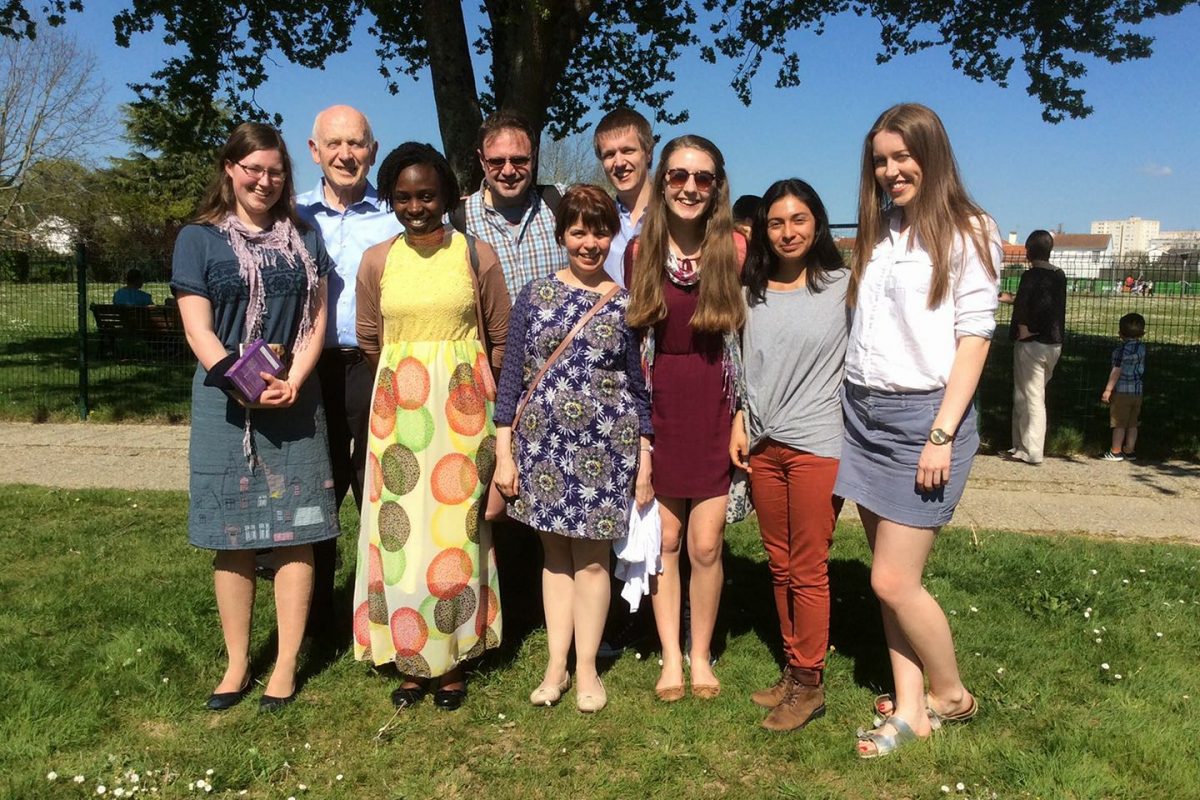 I can safely say that all 9 team members of the Nantes GO Team (from Northern Ireland, Spain, Mexico and Uganda) thoroughly enjoyed the GO Team this year. Our main work was the distribution of around 40,000 leaflets of "Reflexions" in which the articles were about the wise and the foolish man and about blindness – linking physical blindness to spiritual blindness. Each team member walked over 70 miles over the course of the week but thankfully we were extremely well fed by our hosts, the Balls and the Lytles. It was clear that this area of France is in spiritual darkness with very few evangelical churches and most people coming from either a Roman Catholic or non-religious background, and so this motivated us to go out with enthusiasm and boldness to deliver the most important News to people in need of spiritual light.
However, not all of our work consisted of distribution, we also took part in various church activities including: a congregational lunch on the first Sabbath, a soirée evening, the English café, and the youth club and children's club, so we had plenty to keep us busy! Through this we got to know the members of the congregation and people associated with the congregation and strengthen friendships which had been made in previous years. You may think the language barrier would be a problem but even a simple "Bonjour" and an effort to introduce ourselves brought a smile to the people's faces (probably partly due to the mispronunciation of French words but we'll set that aside….). The congregation is small (between 20 and 30 people attending church each week) and so our presence was a real encouragement to them.
Of course, it couldn't be all work and no play, and so the team were given a few opportunities to relax and take in "la culture française". We went to the local market and saw loads of traditional French food and then got to try some traditional French food one evening when we went to a couple from the congregation's house to eat a traditional French galette dish. On the final Saturday we were let loose in Nantes with a map and a tram ticket – a possible recipe for disaster but thankfully everything turned out okay! We visited some of the main tourist attractions in Nantes such as the Elephant, the castle, the cathedral, and the top of the Tour de Bretagne (the highest building in Nantes).
All in all it was a really amazing and worthwhile trip which I would recommend to anyone regardless of their linguistic ability! We would continue to encourage you to pray that God would work through the seed sown in the leaflets we distributed to open people's eyes to their sin and their need for a Saviour and that his kingdom would advance there in Nantes. We would also like to say a massive thank you once again to the missionaries who hosted us and looked after us so well while we were there and pray that God would bless the work that they're doing for His glory.
Grace Carson